Since the inception of Taiwan Contemporary Culture Lab (C-LAB) in 2018, it has taken a leading role in promoting experiments and innovations in arts and culture, with an aim to engage the public with diverse cultural programs as well as to facilitate international exchanges. Following Re-Base: When Experiments Become Attitude in 2018 and City Flip-Flop in 2019, the annual exhibition of 2020, Re: Play, kicks off at a particular time when humanity is facing the harsh challenge of a global pandemic. This year's focus is on live art, a form disrupting artistic boundaries and limits pertaining to the act of viewing. In so doing, Re: Play intends to unsettle the existing frameworks of white cubes and black boxes so that novel forms of exhibition/performance are possible for a new landscape of contemporary art scenes.
This year's Re: Play is led by a team consisting of curator of C-LAB, CHUANG Wei-Tzu, and guest curators, WANG Po-Wei and River LIN. 16 artists are invited to contribute to the exhibition by utilizing elements of live performance in their works and to explore ideas such as archive, narrative, spatiality, object, gender and body. Three different subsections planned and executed respectively by CHANG Wei-Tzu, WANG Po-We, and River LIN— "The Display on Live," "Archive on Live," and "Performance Process"—together bring forward a discussion about the energy that lies in performance and about how it provides new perspectives to the audience.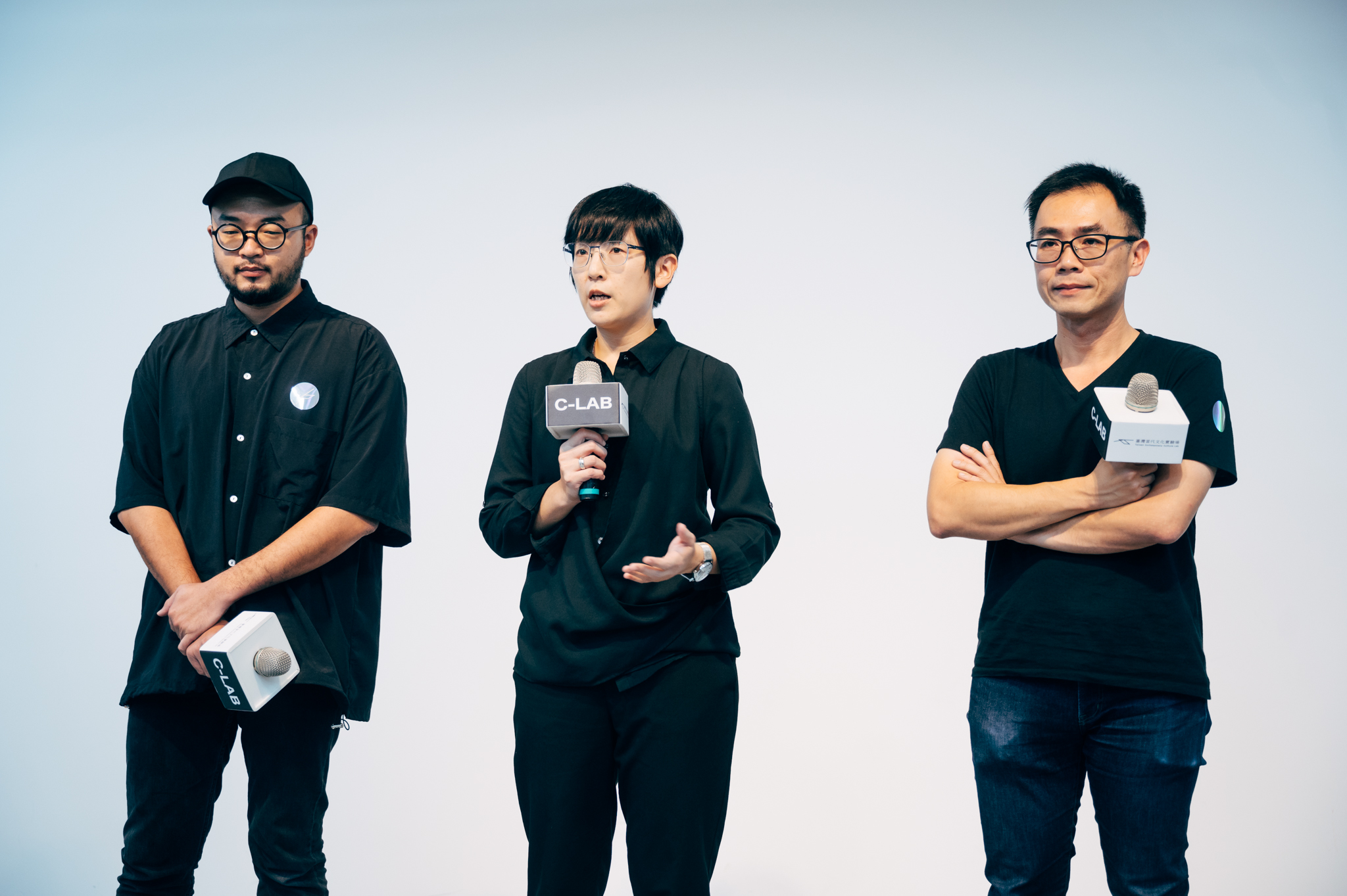 Discourses about theater, history of art, and national narratives 
The three subsections of this exhibition all place much emphasis on exploring possibilities of history, body, and sensibilities towards spatial qualities, by looking closely at the energy that lies within "performance" or "performing." In terms of looking into the past, curator of the subsection "Archive on Live," WANG Po-Wei, investigates ET@T's archive for documentation of previous works by artists CHEN Ming-Tsai, CHENG Chih-Chung, TIEN Chi-Yuan, HOU Chun-Ming, and YAO Jui-Chung. In the meantime, CHEN Wu-Kang holds four lectures as performances discussing how performance events have shaped our contemporary understanding of the foundational framework of performance. The four performances are Sabotaged Life, Intimacy Exposed, Theater and Social Movements, and Amateur. And artist KAO Jun-Honn revisits his performances created around the 2000s in Re-visit/make ("How Shan-Qiao-Jun-Honn Repeated My Art" Project, 2002), in order to investigate how a body exists in relation to different eras and cultural/artistic scenes.
In addition to the planning of "Performance Process," curator River LIN also invites performers to collaborate in a workshop to produce a new piece, Dancing with Gutai Art Manifesto (1956). Inspired by texts and works of important members of Japanese Gutai Art, a series of actions and happenings are presented on stage as expanded choreography. Moreover, with two lectures delivered by CHANG Wen-Hsuan in a way reminiscent of a successology lecturer, When Did the Merlion Become Extinct? —The Narrative to Succeed in the 21st Century addresses how Four Asian Tigers have created historical narratives related to national mythologies after the Second World War.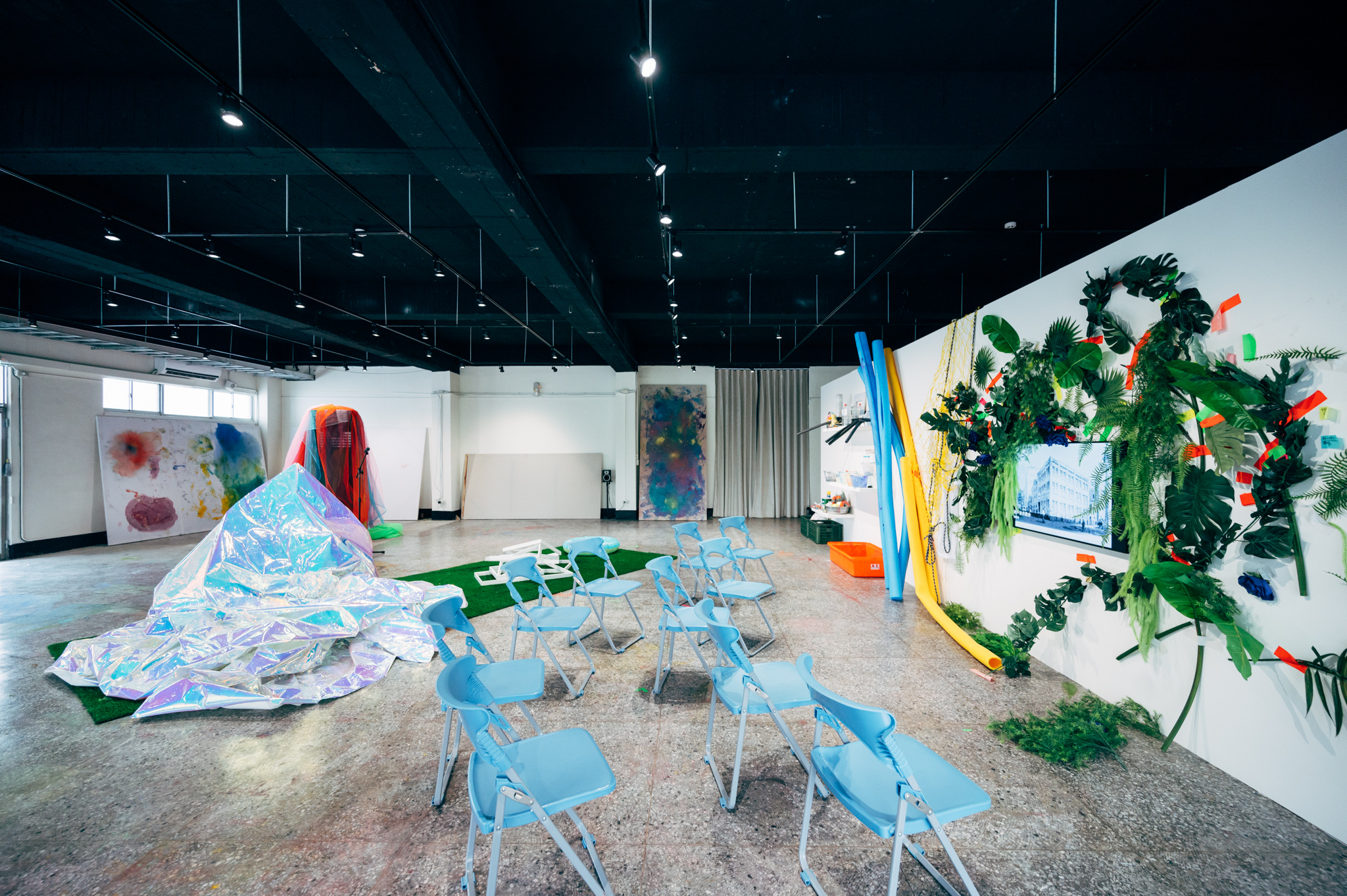 Sensibilities towards military bands and social movements
Two Hong-Kong artists, Samson YOUNG and LEE Kit, participate in the exhibition through examining the contexts of the former Air Force Command Headquarters (where C-LAB is based) and the military band, as well as through personal sentiments during the participation of the Anti-Extradition Law Amendment Bill Movement in Hong Kong. In Music for Specific Places, Times, and People #1, Samson YOUNG interviews 16 former musicians in the Taiwanese military band. The musicians are asked to share their memory in the armed forces and their thoughts about certain ideas such as "solidarity", "integrity", and "hope." They are also invited to record musical sentences or choose existing motifs reminding them of "hopeful" feelings. Using a combination of the anthem of the Republic of China Air Forces, Antonin DVORAK's "Going Home," and YOUNG's own composition "Sunrise" as the leitmotif, the artist creates a new wind ensemble piece with what he learns from the musicians. YOUNG has overcome considerable difficulties to travel to Taiwan, so that he can play this piece with the 16 musicians on the opening day of the exhibition, with the former sergeant of Air Force military Band LIU Chih-Chieh as the conductor.
LEE Kit has been actively engaged in the Anti-Extradition Law Amendment Bill Movement for over a year now. Seeing drastic changes reshape Hong Kong in a significant manner, LEE tries to capture transient moments in the turbulent currents of history, and translates them into artistic forms in his new work, Regarding Days That Were Difficult to Launch. Due to the pandemic, circumstances prevent the artist from getting a valid visa to enter Taiwan. LEE has to arrange the setting up of the exhibition without being here in person. In the exhibition space, the audience hears sounds recorded at scenes of social movements, mixed with LEE's composition. Besides, the artist works with participants to visit sites in Hong Kong and Taiwan where "forced suicide" or other political incidents happened and take photos at these sites. By doing so, the work re-examines the profundities of presence and absence from a meta point of view.
Telling the relations between performance and gender identification
What's worth mentioning as well are the works addressing gender issues in the exhibition, such as Taiwanese artist SU Hui-Yu's The White Waters. Drawing upon Critical Point Theater Phenomenon's The White Tide that was directed by TIAN Chi-Yuan, SU invites Instagram sensation JONG Yi-Ling and Popcorn, an active figure in Taipei's drag community, to be part of the enactment. For the live performance on the 17th and 18th of October, renowned dancer LIU I-Ling who previously worked at Bill T. Jones/Arnie Zane Dance Company interprets the coexistence and conflicts between Fahai and the White Snake and explores the subtleties of erotic desires and moral values through the constellation of dance and video installation. After the live performances, SU Hui-Yu collaborates with C-LAB Taiwan Sound Lab during the exhibition to produce an edition without performers by employing three displays of different sizes and surround sounds.
Even though Korean artist Siren Eun Young JUNG is not able to attend the exhibition in person due to the pandemic, she presents Deferral Theatre. Inspired by "yeoseong gukgeuk," a genre of Korean opera in which all parts are played by female actors, Deferral Theatre talks about the nuances of stereotypical female and male roles under conventional gender binarism. In the work, female actors are asked to play characters of the opposite sex, which raises questions on relations between performance and gender identity. Meanwhile, artist SU Pin-Wen who has just received the 2020 Fringe award at Taipei Fringe Festival performs Not Yet Titled in which participants are invited to consider female identities and how they are practiced in contemporary society.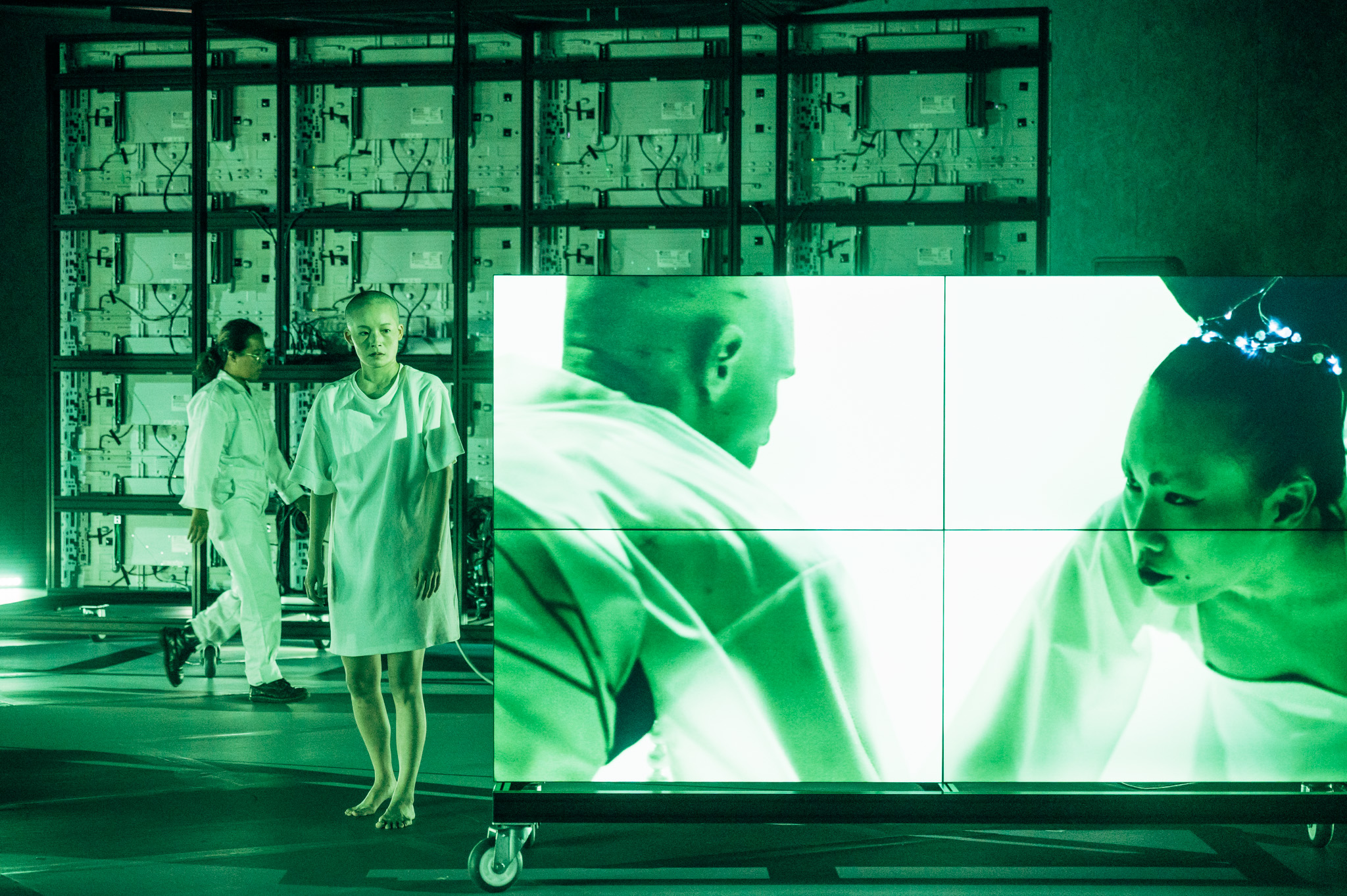 Collages of memories, scenes, and perceptions of the audience
The third significant aspect of the exhibition puts much focus on the dynamics among sites, objects, and audiences. The new collaboration between Joyce HO and Snow HUANG, Next Scene, is a great example. By using collages and by manipulating projections about scenes, surrealistic scenarios are created in the exhibition venue "Art Space III." In addition to a physical space filled with pillars, performances are to be expected every Saturday afternoon, starting on the 31st of October for five weeks. With actors performing the acts each week, how the exhibition looks is in constant change, which refers to memories carried by physical places. On the other hand, artist WANG Te-Yu collaborates with C-LAB Taiwan Sound Lab to deliver her new work, an installation combining inflated sculptures with Wave Field Synthesis array microphone system. The audience is welcomed to wander in this dark environment and perceive various abstract or realistic scenarios through sounds while one's hearing is amplified.
The two members of "Uncertain Studio", CHIANG Tao and TSENG Yen-Ting, carry out the workshops that investigate objects and sounds. The works made by them and participants during the workshops are shown in Still Life and Soundscapes. And in the work P. maraho House, artist CHIA Chien-Ju sets up an installation consisting of a mop, water hose, and a pile of fallen leaves on the Banyan Tree Square near the intersection of Ren'ai Road and Jianguo South Road. Performances infused with elements of a fashion show in which dancers interpret the banal plain objects by making them bear anthropomorphic traits take place on the 8th and 15th of November at the Banyan Tree Square. Another outdoor performance in this exhibition is Disintegration Sketch by LEE Ming-Chen, in which the artist discusses how objects, movements, and sounds define a physical place through the concept of construction. This series of two performances is delivered on 21 and 22 of November at C-LAB.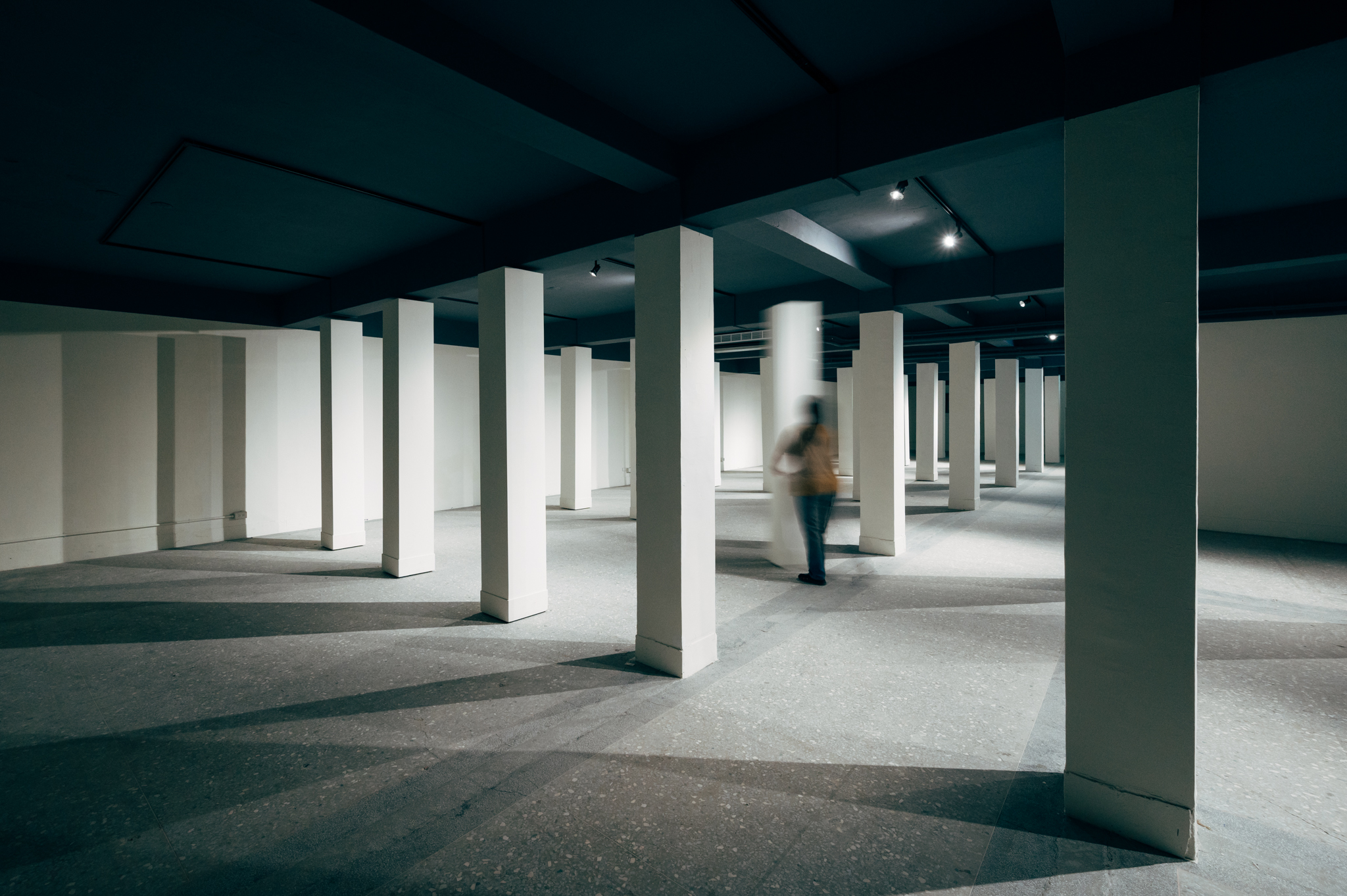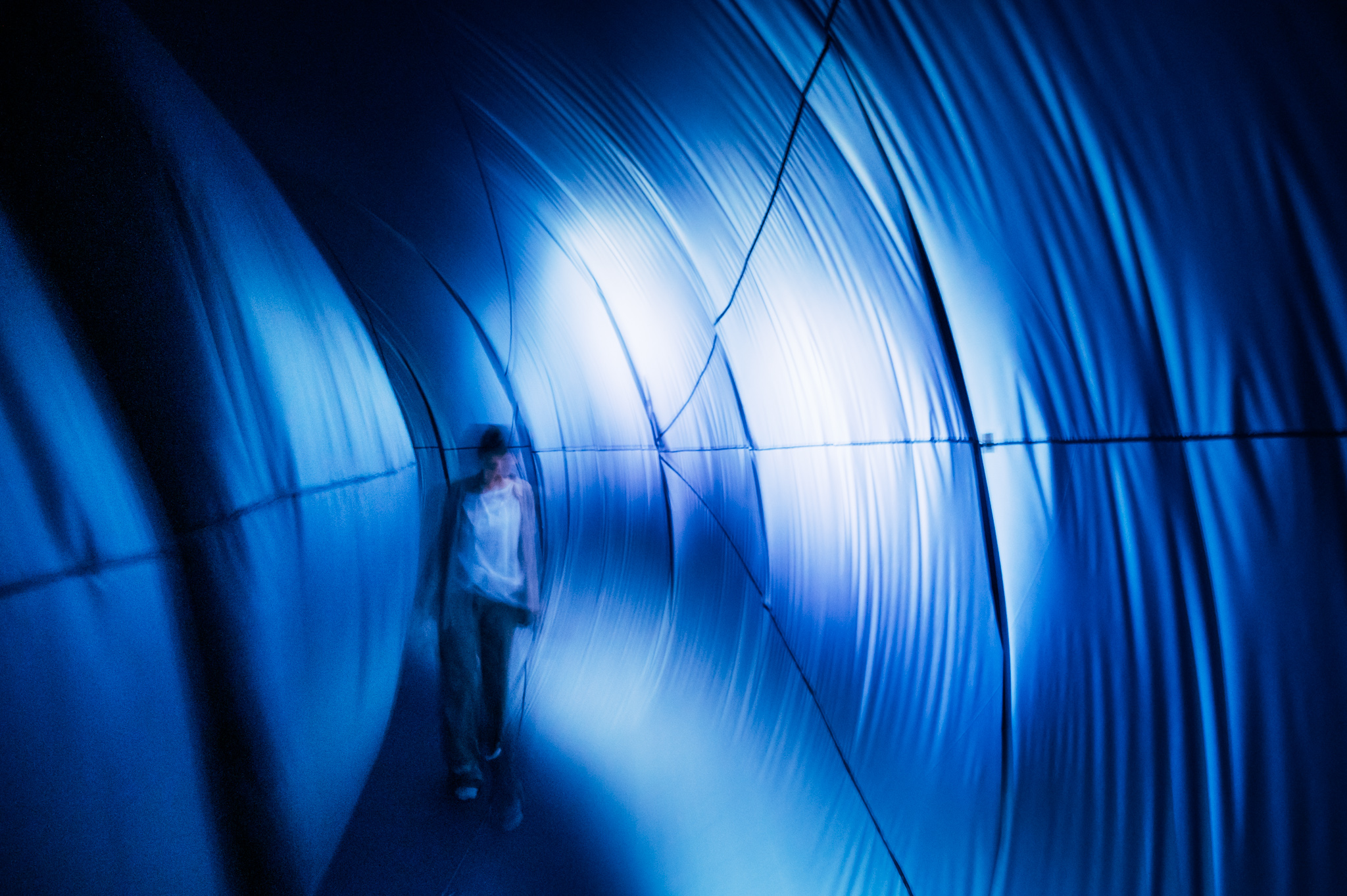 An exhibition that can be appreciated by listening 
In order to provide better support to the audience, the team produces an audio guide featuring theater actor CHENG Yin-Chen, oral traditional folktale performer YANG Yu-Chiao, and actor and musician YU Pei-Jen who recently received the Golden Melody Award for Best Composer as voice actors. The audio guide is made available on the exhibition website for the audience to learn more about the exhibition through listening.
Performances are scheduled every weekend during the exhibition Re: Play. With a diverse collection of invigorating works, C-LAB hopes to challenge existing frameworks in contemporary art, to look closely at existing historical narratives, and to enjoy the richly vibrant contemporary life with the audience. The exhibition starts on the 17th of October and ends on the 29th of November 2020. Further details such as dates and venues of events can be found on the official website. https://replay.clab.org.tw/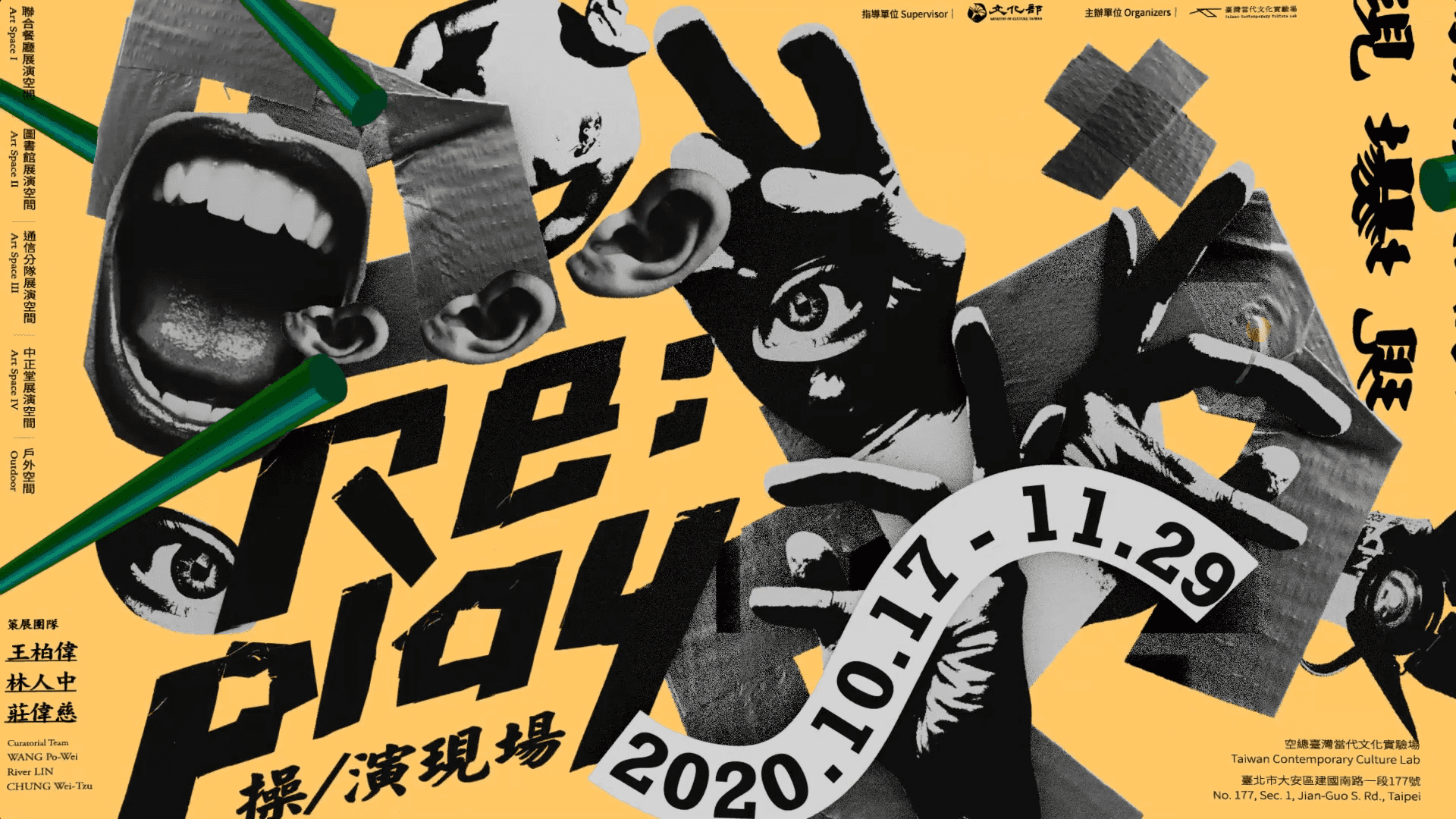 Re: Play
Date|2020.10.17 – 11.29
Curator|CHUANG Wei-Tzu, WANG Po-Wei, River LIN
Artist|CHEN Wu-Kang, KAO Jun-Honn, Samson YOUNG (Hong Kong), Siren Eun Young JUNG (Korea), SU Hui-Yu, Joyce HO and Snow HUANG, Kit LEE (Hong Kong), CHANG Wen-Hsuan, WANG Te-Yu, CHIA Chien-Ju, LI Ming-Chen, SU Pin-Wen, TSENG Yen-Ting and CHIANG Tao of Uncertain Studio