The CREATORS Creation/Research Support Program (CREATORS program) of the Taiwan Contemporary Culture Lab (C-LAB) is now entering its fourth year. From 2020, a total of 16 creative and research projects have been implemented at C-LAB with themes related to narratives, space, performance, agriculture, online public opinion, media criticism, genetic modification, soundscape collection, historical archives, geographical research, and cultural exchanges. Signals: CREATORS 2020-21 brings together 16 individuals and groups to present the status quo of their projects through exhibition, performances, and live events from February 19 to March 14 in C-LAB's Art Space III.
The CREATORS program encourages cross-disciplinary collaborations. Many of the projects are based on an interdisciplinary orientation or ways out of existing artistic and cultural production habits. For example, through dialogues with experts on ancient civilizations and ecological surveys, members of the Taiwan UFOlogy Society, and researchers at the Taiwan Volcano Observatory Datun, the Engineering of Volcano Detonating team conducts a series of art activism studies. With the body as a starting point, LO Yi-Chun seeks connections between Taiwan's sugar industry history and the current fitness culture. In addition, the Libera Work-Gang holds workshops in various places, leading participants to produce woodblock prints and respond to the history and memories of the White Terror. Starting from the daily lives of farming families, Walking Grass Agriculture searches for possibilities of connecting farm labor with artistic creation.
Cross-disciplinary practices of performing artists mainly focus on performance methodologies. HUANG Ding-Yun's God in Residency (GiR) is a dual channel video installation that presents a dialogue between the performing artist and spirit medium, through which the artist develops a manipulable performance method with the concept of deity possession. Information collected from field studies of traditional performing arts in Taiwan, Quanzhou, Vietnam, Indonesia, and Japan serves as a creative reference for productions of the Gang-a Tsui Theater.
Some of the exhibited projects involve revisiting, surveying, and reinterpreting specific textual narratives. HUANG Po-Chih's project discloses the life experiences of a vendor in a Hong Kong fabrics market, while Her Lab Space's project departs from a 1910 song introducing the characteristics of different places in Taiwan and combines performance, images, and historical documents. HSU Che-Yu and CHEN Wan-Yin's The Unusual Death of a Mallard connects a laboratory rabbit with a mallard specimen in a natural history museum through images.
Outside the realm of the humanities, some creators attempt to dismantle narratives from the media criticism perspective. Members of the Lab of the Distant Relatives reflect on the information warfare among Taiwan, China and Hong Kong and propose the use of the genetically modified arabidopsis thaliana based on bio art and media techniques as an information carrier. SHIH Yi-Shan considers the possibilities for a new type of digital landscape through the analyses of the keywords circulating among online communities.
Several sound artists present their experimental sound projects. HUANG Ling-Hsuan's Artificial Nature incorporates a four-channel sound field and Ambisonics surround sound technology in a live performance, exploring the possibilities for displacement between hearing and vision. WU Ping-Sheng makes use of speaker arrays to create the effects of Wave Field Synthesis. HUANG Wei's Cross-Section of Daily Life features visual data-driven sounds based on point cloud recording methods. In addition, CHEN Chih-Chien attempts to carry out co-creation between human and machine. Using artificial intelligence (AI), data collected from the natural environment is analyzed and transformed into an installation that simulates the dynamic sounds in nature.
The curator YU Wei says that the exhibition aims to demonstrate the unfinished, under-developing state of each project. Instead of conventional "works," the exhibits are records of creative process and working progress, including written drafts, diagrams, field study materials, and references, with some of them semi-finished works.
YU adds, "These projects are still developing. Perhaps in the future they will become works with high degrees of completion or serve as the technical or concept foundation of different works. These articles, prototypes or under-developing versions are valuable records of the processes involved in cultural practices." The exhibition is a progress report of the 2020 CREATORS program, which presents the results of project development from last year to today and stimulates us to imagine what these projects will be in the future.
Click here to see more information about the exhibition.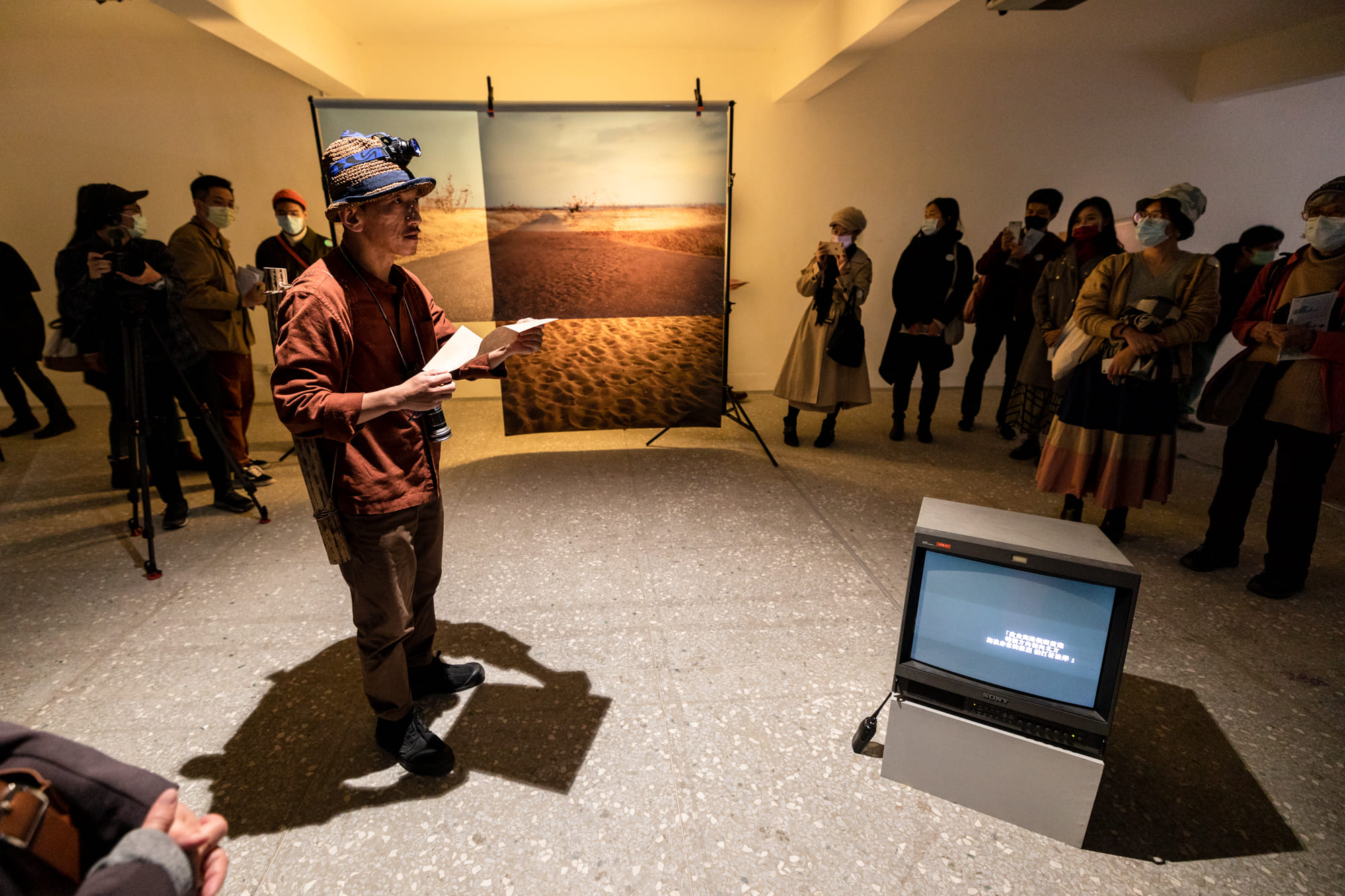 If, a Final Chapter for a Family Trip was performed by Her Lab Space as the opening show of the exhibition.
The performance DJ Lady Tree & Sky Ball Long-playing Record at the opening party of the exhibition