Aileron of Soul: DOMOUND questions the assumption of AI as an instrument, and extends such questioning into visual stimulation and exploration. It offers a composition approach based on non-human vision, and magically embeds keywords into images and sounds. The work utilizes image data of architecture, geology, and astronomy as an entry point, and employs an AI-produced visual structure to investigate the contour of human knowledge perceived by AI vision, while highlighting an out-of-place feeling resulting from non-human visual cognition. Through this work, the artist questions about AI-produced imagery: is it an aileron that is able to guide the human soul and bring about cognitive breakthroughs? Or does it hide behind quid pro quo contracts without us knowing what these contracts stipulate? Themed on human senses of vision and hearing, this work weaves a narrative of sounds and images through the sub-themes of myth, cosmic prospecting, technology, nature, and AI, using the characteristics of audiovisual works to extend or freeze the flowing sense of time, while re-organizing a sensory experience of vision-hearing integration and spiritual transcendence.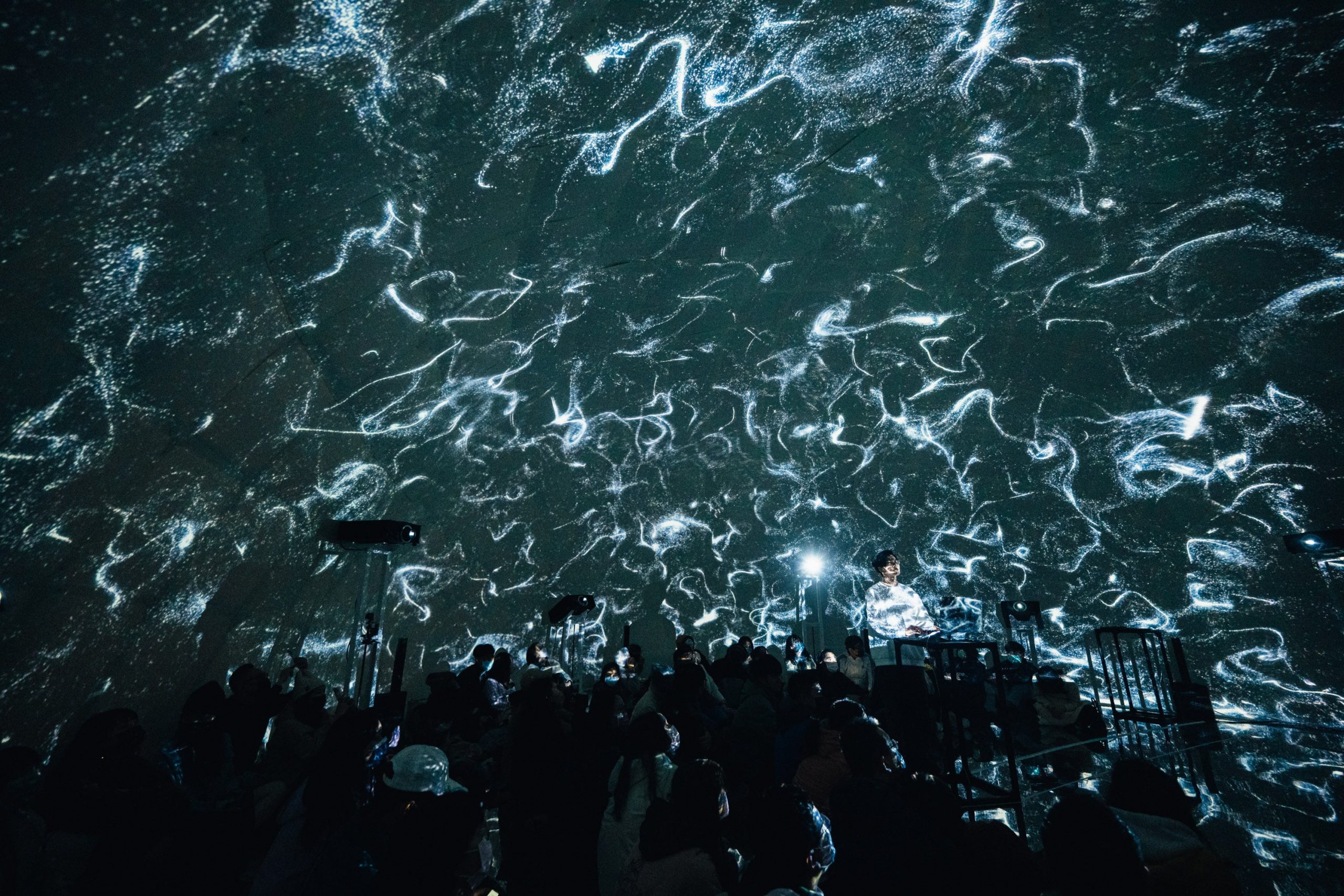 Photo Credit: Taiwan Contemporary Culture Lab; photographer: LIN Hsuan-Lang
WU Ping-Sheng is a new media artist, whose practice engages in computer music, audiovisual performance, and new media installation. He has been selected by C-LAB as a visiting artist to IRCAM in France, a participant in a co-production project with EMPAC in New York, and an artist-in-residence in New York. In 2020, he was selected into the C-LAB Creators program, and his sound design created for a production by YiLab premiered in Art Basel Miami Beach in 2021. In 2023, his work of VR sound design was selected for the 2023 Annecy International Animated Film Festival. His works have been featured in various art exhibitions and events, including the Taiwan Art Biennial, Taiwan International Light Festival, Taiwan Lantern Festival, Yuejin Lantern Festival, Nuit Blanche Taipei, etc. 
|Date & Time
10/27(Fri.)19:00
10/28(Sat.)16:00, 19:00
10/29(Sun.)16:00, 19:00
11/18(Sat.)16:00, 19:00
11/19(Sun.)16:00
*The performance contains flashlights and loud sound, and viewer discretion is advised.
|Admission Information 
▸ Ticket required for entry.
▸ Please arrive at least 10 minutes before the performance or screening. Latecomers will not be admitted. On-site queuing for entry is available depending on the vacancies.
▸ Throughout the event, tickets for each program will be available on the Monday two weeks before the event date. For detailed program registration information, please visit the "C-LAB Technology Media Platform" Facebook page or the event page of C-LAB on Accupass.
|Notice
▸ Some performances contain intense strobe lighting effects. Viewer discretion advised.
▸ The space is equipped with the mirror floor, viewer wearing pants is advised.
▸ Due to limited space inside the venue, picnic mats and chairs are not allowed. If you have other needs, please contact the front desk staff for assistance.
▸ Photography and social media stories recording are allowed during the screening, but the use of flash is prohibited.
▸ The organizers reserve the right to adjust and change the event.