FUTURE VISION LAB 2023
In 2020, the Taiwan Contemporary Culture Lab (C-LAB) established the Technology Media Platform which emphasizes on innovative media experimentation and social connections. Its purpose is to construct a cultural and technological experimental platform based on cross-disciplinary collaboration, co-creation, and cooperation to facilitate the integration of Taiwan's cultural and technological resources while bringing together the cultural and technological sectors for co-creation. One of the labs of the platform features future visions, exploring the visual limits of technology media as its goal of experimentation. Building upon Taiwan's electro-optical technology and industry, aided by image algorithms and creation, as well as the integration of hardware and software, the project outlines a cross-disciplinary vision for the enhancement of future visual effects.
Since its launch, the Technology Media Platform has consistently developed FUTURE VISION LAB, an experimental exhibition and performance project that engages in building a digital, experimental architectural site in a dome shape to nurture interdisciplinary and experimental talent, providing young Taiwanese artists with a platform to show their content creations and introducing brilliant works from abroad. This project explores the visual limit of technology media. Its development involves multiple and complicated techniques, including image warping, edge blending, mapping, play control, and video pre-production. In the past three years, FUTURE VISION LAB has showcased nearly one hundred works.
This year, with the support of the Ministry of Culture, FUTURE VISION LAB 2023 is able to expand the previous scale and upgrade to "DOME 2.0" by creating a substantially enhanced DOME that continues the diverse and experimental spirit of the project. Using digital architecture, an exterior of the DOME informed by computational characteristics is developed. In terms of size, the new DOME surpasses the previous 12-meter diameter, and is built as a moveable DOME with a diameter of 15 meters and a more enwrapping sound field. At the same time, it also has a new-type projection membrane and an immersive super-resolution audiovisual environment that has a total resolution of 10K. Such a creative environment with specifications that meet the international standard allows the audience to enjoy immersive, sensory content of higher quality all day long, and vividly perceive the creative power of Taiwan.
|Admission Information
▸ Ticket required for entry. Free Entrance for Screening Program.
▸ Please arrive at least 10 minutes before the performance or screening. Latecomers will not be admitted. On-site queuing for entry is available depending on the vacancies.
▸ Throughout the event, tickets for each program will be available on the Monday two weeks before the event date. For detailed program registration information, please visit the "C-LAB Technology Media Platform" Facebook page or the event page of C-LAB on Accupass.

|Notice
▸ Some performances contain intense strobe lighting effects. Viewer discretion is advised.
▸ Due to limited space inside the venue, picnic mats and chairs are not allowed. If you have other needs, please contact the front desk staff for assistance.
▸ Photography and live recording are allowed during the screening, but the use of flash is prohibited.
▸ The organizers reserve the right to adjust and change the event.
|Programs & Events
【Screenings】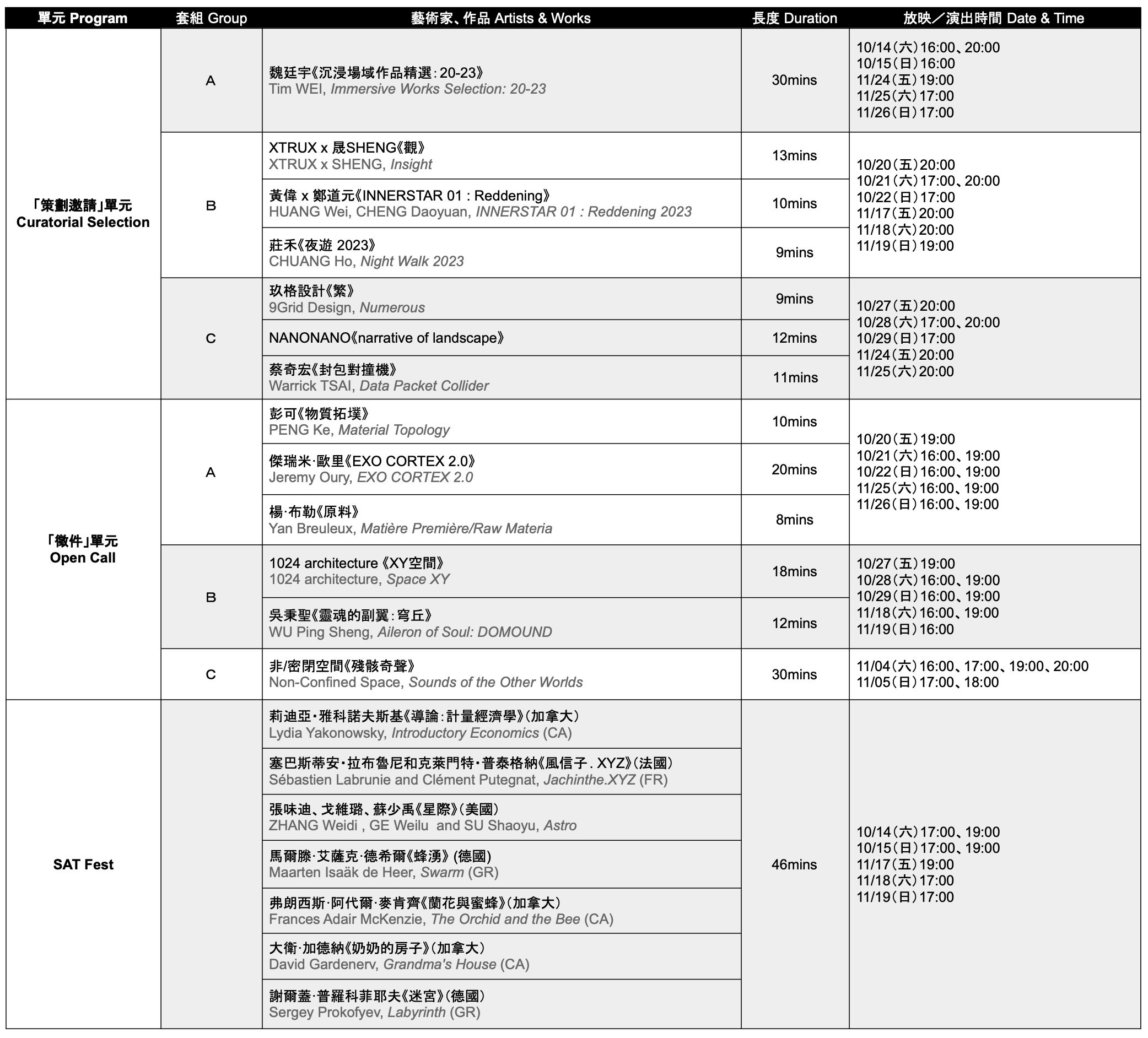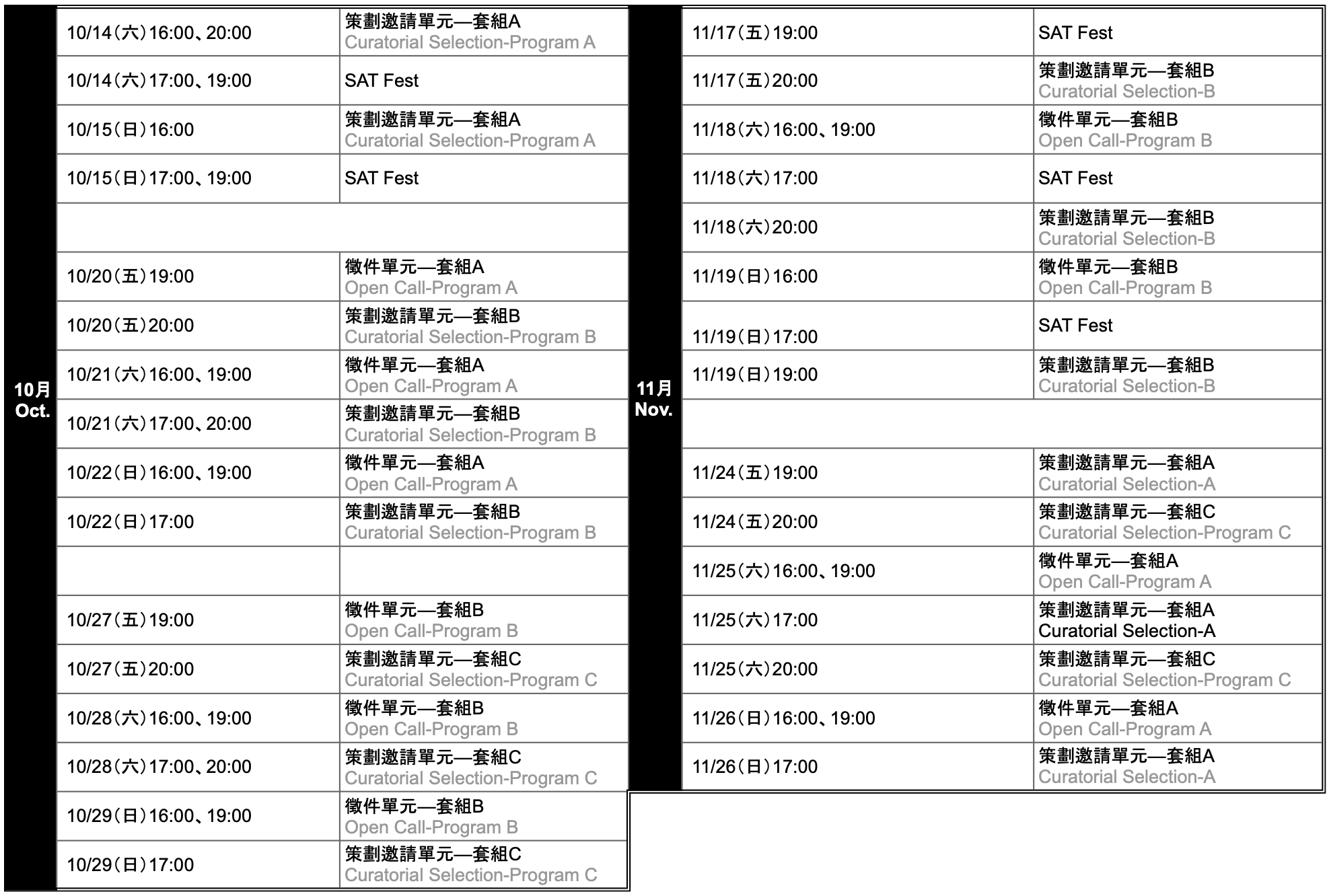 【Opening Video Design】
Peppercorns Interactive Media Art Team, Sandbox Reconstruction Initiative: Dome Version
【Open Call】
▸ Sergey PROKOFYEV, LABYRINTH
▸ Frances Adair MCKENZIE, The Orchid and the Bee
▸ Maarten ISAÄK DE HEER, SWARM
▸ David GARDENERV, GRANDMA'S HOUSE
▸ Weidi ZHANG, Weilu GE and Shaoyu SU, Astro
▸ Sébastien LABRUNIE and Clément PUTEGNAT, JACINTHE.XYZ
▸ Lydia YAKONOWSKY, Introductory Econometrics
【Curatorial Selection】
【In concurrence with 2023 C-LAB Sound Festival】
LI Li-Chin|Landscape on the New Horizon of Sheng: A Tale of Two Cities – An Interactive Multimedia-based Musical for Sheng
▸ Date & Time: 11/11 (Sat.) 14:30, 19:30
For detailed information, please refer to: Accupass Event Page of 2023 C-LAB Sound Festival
【TNUA NMA X SCCD|Immersive Audiovisual Workshop-The Joint Presentation】
▸ TNUA NMA|Date: 12/3(Sun.)19:00, 20:00
▸ SCCD|Date:12/16(Sat.)18:00, 19:30
FUTURE VISION LAB 2023【Future Vision Party】
▸ Date & Time:
12/01 (Fri.) 19:30
12/02 (Sat.) 19:30
【Performing arts】
House Peace|Beans, Jack, and the Magic Dome
▸ Date & Time:
12/08 (Fri.) 19:00, 20:00
12/09 (Sat.) 18:00, 19:00, 20:00
Co-coism|Flesh Gods (2023)
▸ Date & Time:
12/22(Fri.)18:30, 19:00, 19:30
12/23(Sat.)18:30, 19:00, 19:30
Ticket| https://reurl.cc/edldbQ
・The program contains nude, erotic, violence scenes and viewer discretion is advised.
・The age guidance for this performance is 18+ (born before December 22, 2005) and valid ID is required for entry. 
Artist Talk I|
Telling Tent (CHANG Chia-Lu), CHAO Pei-Yu, Robert CHANG-CHIEN, LI Chen-An, TIEN Zi-Ping
▸ Date & Time: 12/02(Sat.)16:00~17:00

Artist Talk II|
SHENG, CHAN Hsin-Yu, HSU Hsun-Hsiang, WU Cheng-Lu, HUANG Wei X CHENG Daoyuan
▸ Date & Time: 12/02(Sat.)17:00~18:00
Introductory Workshop|
Filmmaking for the Fulldome|AnDing KANG (Instructor)
▸ Date & Time: 12/17(Sun.)15:00~18:00
FUTURE VISION LAB 2023
Principal|TSAI Chi-Hung
Production Team|WU Po-Shan, CHUANG Chih-Chung, Emma LIAO, HSIEH Wei-Yi
Tech Lead|Revlis HUANG
Technical Team|AnDing KANG, WU Cheng-Ju
Preliminary Conceptual Design|JHStudio, Department of Architecture, National Yang Ming Chiao Tung University
Architectural Design and Fabrication|achy_made
Sound Field Design|HSIEH Hsien-Te (C-LAB Taiwan Sound Lab)
Sound System Coordination|BlackRice Studio
Opening Video Design|Peppercorns Interactive Media Art Inc.
Graphic Design|Robert LIN
Website Design|LIN Han-Kuan
Photo Ducumentation|LIN Hsuan-Lang, ANPIS FOTO
Video Ducumentation| CHOU Hong-Ni, LIN Yi-Ting, BiG BiG CHEN International Film Co., Ltd.
Trailer Editing|CHOU Hong-Ni, Chia-Wen Huang, CHIU Chui-Jen
Website Design | Lin Hankuan
Participating Artist|
9 Grid Design, Co-coism, Non-Confined Space, WU Ping-Sheng, CHUANG Ho, HUANG Wei x CHENG Daoyuan, PENG Ke, House Peace, Warrick TSAI, Tim WEI, NANONANO、XTRUX x Sheng、1024 architecture、Yan BREULEUX、David GARDENER、Maarten ISAÄK DE HEER、Sébastien LABRUNIE and Clément PUTEGNAT、Frances Adair MCKENZIE、Jeremy OURY、Sergey PROKOFYEV、Lydia YAKONOWSKY、Weidi ZHANG、Weilu GE and Shaoyu SU
Supervisor|Ministry of Culture of Taiwan
Organizer |Taiwan Contemporary Culture Lab
Executive Team|Technology Media Platform
Collaborator|Society for Arts and Technology, Department of Communications Design at the Shih Chien University, Department of New Media Art at the Taipei National University of the Arts
Sponsor|Optoma Corporation