One of the most popular experimental projects from C-LAB, "FUTURE VISION LAB", is going to meet everyone in Hualien! This year marked its first traveling exhibition, becoming part of the 2022 Taiwan Lantern Festival in Kaohsiung, FUTURE VISION LAB travel to the east side of Taiwan in the end of the year and meet everyone at Hualien Cultural & Creative Industrial Park from 24th Dec., 2022 to 5th Mar., 2023. 
C-LAB Technology Media Platform launched FUTURE VISION LAB in 2020. To create immersive projection in the experiential dome space, multiple complicated techniques are involved, such as image warping, edge blending, mapping, play control, and image preprocessing, all of which are necessary for a fully immersive experience for the audience. From the floor, the surrounding wall, to its zenith, the DOME's interior is a streamlined spherical space, which renders the viewing of video works similar to that of naked-eye virtual reality. Meanwhile, the DOME is also an immersive site, which fits the innovative concept of "future vision."
This time, FUTURE VISION LAB travels to Hualien, and presents a diversity of performances and visual experiences, including three works premiering, nine works and two live programs in total, to the public.
Time: 24th Dec., 2022 - 5th Mar., 2023.
Location: The 10th Building, Hualien Cultural & Creative Industrial Park
|Opening hour
2 p.m. to 5:30 p.m., every Friday, Saturday, Sunday, national holidays and lunar new year holidays
(21st Jan., 2023 is closed)

|Entrance
【Screening programs】
▶ Each show is entered in sequence by queuing up on site.
▶ The number of people for each session is 50 people. If the amount is full, then please wait for the next show.
▶ If the queuing personnel are not present at the time of admission, they will be deemed to have given up, and they need to re-queue and wait for admission in order.
【Live programs】
◉ 2023/2/10-2/12 Telling Tent, Institute of Fantastic Animals
◉ 2023/2/25-2/26 FUTURE VISION PARTY
▶ Tickets are required for the Live programs mentioned above. Limited availability, please sign up here.
|Program orders
▶ There are three program orders, and each opening date will present one order.
▶ Audiences should follow the entrance instructions mentioned above for each session.
▶ At the end of each session, audiences should leave from the space; if audiences would like to attend the next session, audiences should re-queue and wait for admission in order until the session is full. 
Detailed information for 3 program orders (Program A, B and C)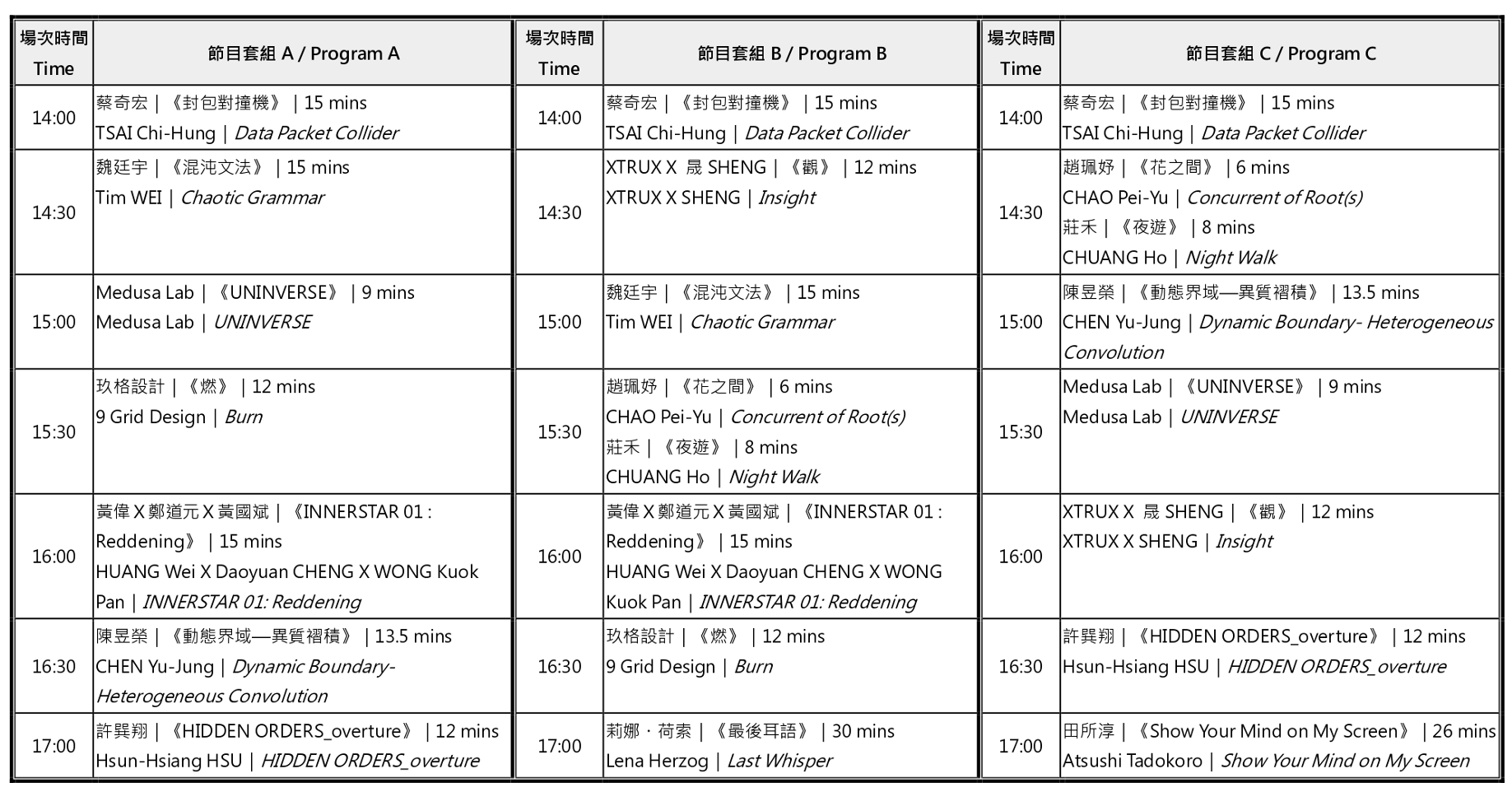 Programs during the opening date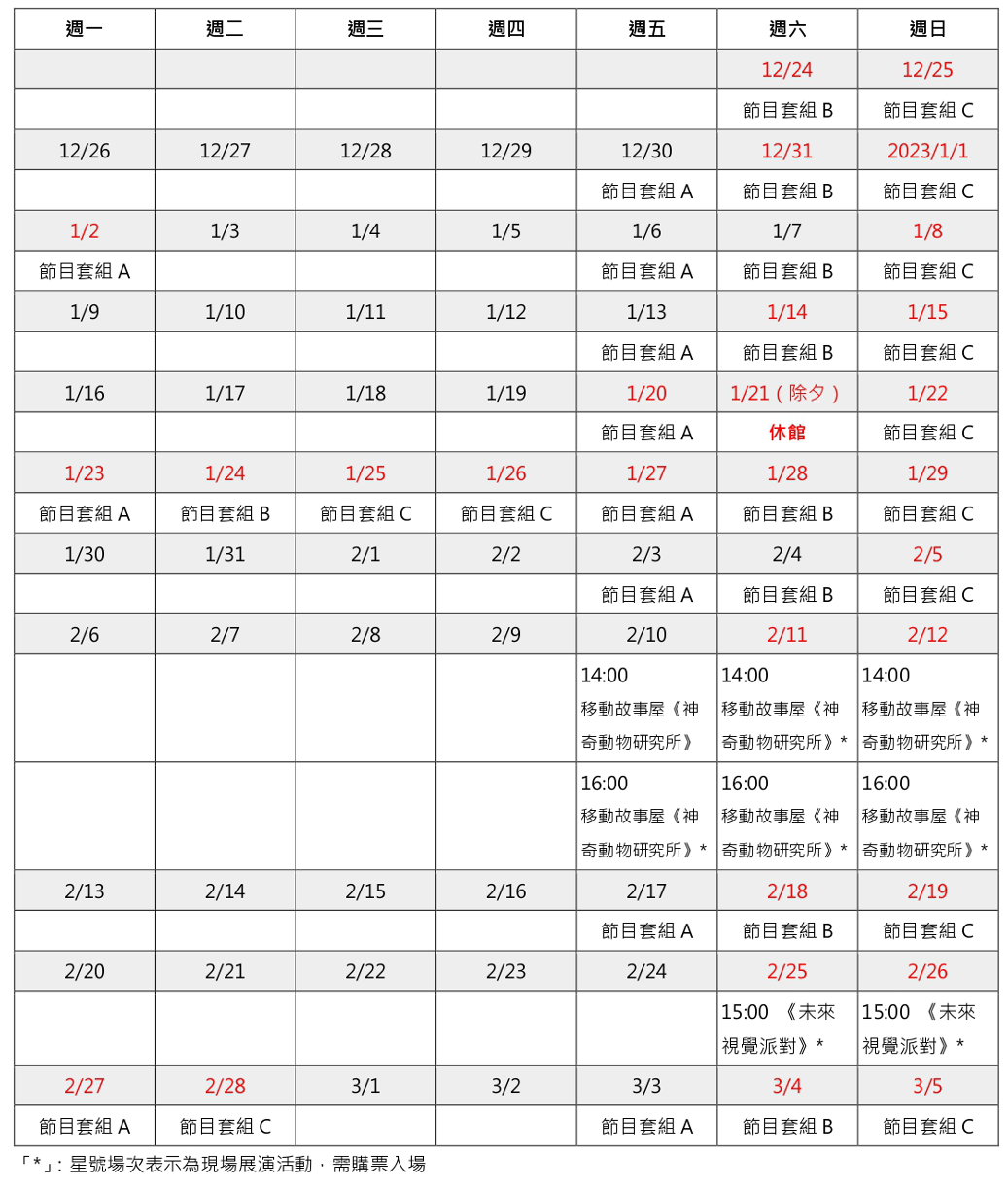 |Attention
▶ The performance contains flashlights and viewer discretion is advised.
▶ Due to the mirror floor, audiences are advised to wear pants while entering the space.
▶ Due to the limited capacity, picnic blankets or any forms of chairs are not allowed in the space. If you need any assistance, please ask the FOH staff for help.
▶ During the performance, photography without flashlight is allowed, but video recording is prohibited.
▶ For the epidemic prevention, audiences are required to wear masks at all times.
▶ Programs may be subject to change.
Screening programs
◉ Lena Herzog Last Whisper ◉(Premier)
Last Whispers is an experiential, immersive work dedicated to the extinction of languages. Every two weeks the world loses a language. At an unprecedented speed, faster than the extinction of some species, our linguistic diversity—the very means by which we know ourselves—is eroding. Today, out of the 7,000 languages remaining on Earth, only 30 are spoken among the majority of the world population. It is estimated that at least half of the planet's currently spoken languages will have died out by the end of this century. Some estimates project a much greater speed of disappearance. In an attempt to raise awareness about this issue, The United Nations General Assembly and UNESCO have declared 2022-2032 the "International Decade of Indigenous Languages."
Last Whispers, created by the artist Lena Herzog, is a project about the mass extinction of languages. By definition, this extinction occurs in silence, since silence is the very form it takes. Last Whispers sounds what has gone silent. While we drown in the noise of our own voices— uttered within dominant cultures and languages—we are surrounded by a vast ocean of silence. Last Whispers aims to further awareness of linguistic extinction on a global scale.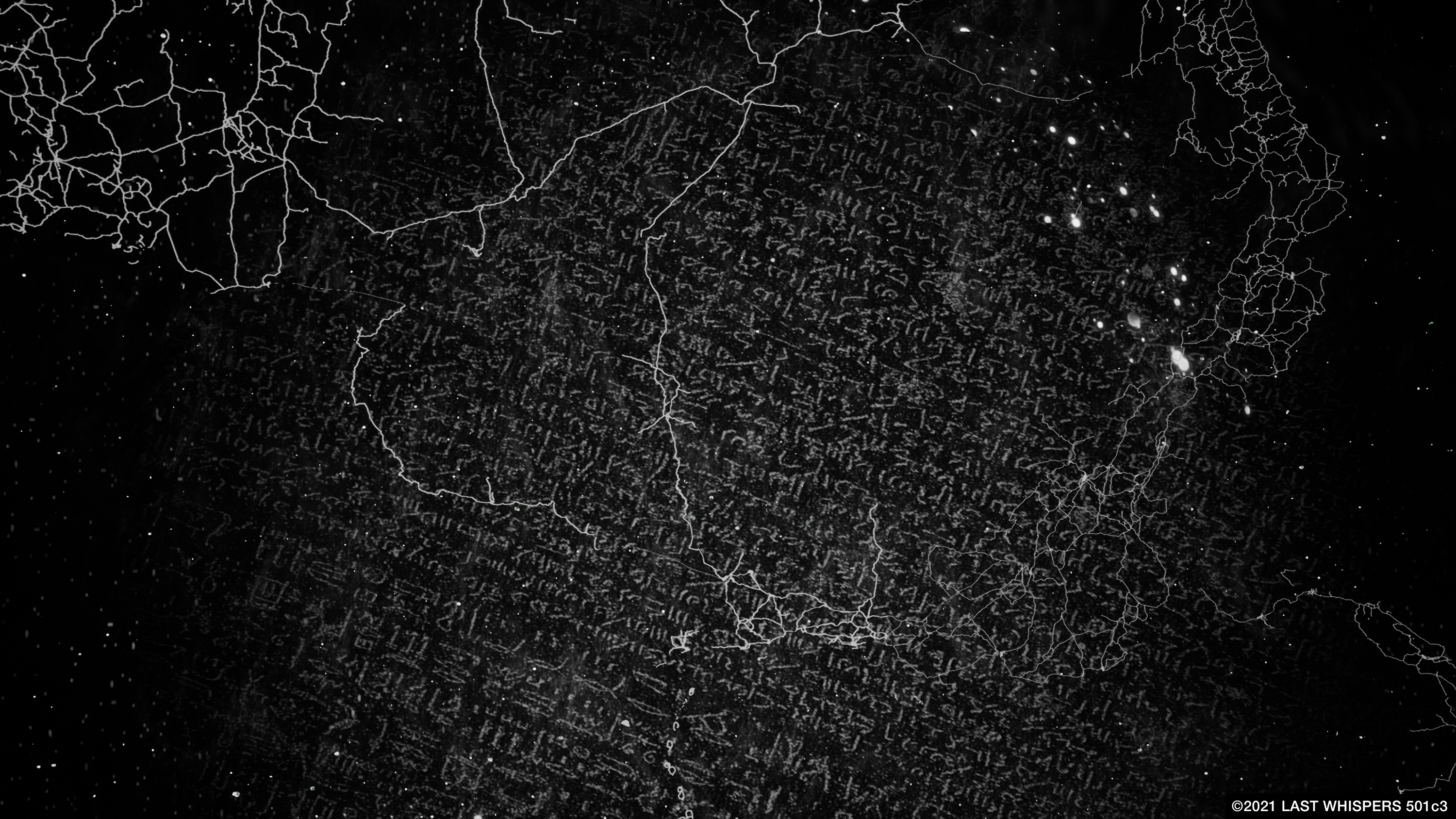 Lena Herzog is an award-winning multimedia artist. She studied Philosophy and Linguistics (Philology), working primarily in the field of photography and printmaking since 1997. Herzog is the author of six books of photography; her work has been widely published and has been reviewed by The New York Times, The Los Angeles Times, The New Yorker, and The Paris Review among many others. She is a regular contributing artist to Harper's Magazine. Her work has been collected and exhibited in major museums and institutions around the world. 
Concept, director and producer : Lena Herzog
Sound designer and composer : Marco Capalbo & Mark Mangini
Researchers: Theresa Schwartzman & Eveling Villa
In collaboration with The Endangered Languages Documentation Programme and The SOAS World Languages Institute, SOAS, University of London. Co-presented by The Atlas of the World's Languages in Danger, UNESCO.
Co-distributor : Lucid Realities
◉ Atsushi TADOKORO Show Your Mind on My Screen ◉(Premier)
"Show us your screen" is a live coding manifesto. This spirit lives on in the live coding community. The title of the performance, Show Your Mind on My Screen is a tribute to this manifesto. This work is a real-time record of a live coding performance performed directly inside an immersive dome. Sound and images are generated in real-time from the projected code (program). Audiences will experience how the sound and images change each time you add or edit the program. Even if audiences cannot understand each line of the code, you will feel a sense of unity with the performer who is playing with the code. This is similar to how you are moved by a piano performance, even if you do not understand the detailed finger movements. Through this performance, you will be able to feel my breath as I play the chord, your heart will be conveyed to me, and you will be immersed in the sound and images.

Atsushi TADOKORO is a creative coder, Associate Professor at Maebashi Institute of Technology, and Adjunct Lecturer at Tokyo University of the Arts and Keio University. Born in 1972, he creates musical works by synthesizing sounds using algorithms and improvises with sounds and images using laptop computers. As a lecturer, he focuses on topics related to "creative coding," such as openFrameworks, Processing and p5.js.  His lecture materials are available online (https://yoppa.org/) and used by students and creators. He is also the author of Beyond Interaction: A Practical Guide to openFrameworks for Creative Coding, BNN 2020.
◉ HSU Hsun-Hsiang HIDDEN ORDERS_overture ◉(Premier)
The world is made up of numerous complex systems that are interlocked and balanced. These systems include not only man-made orders, but also the orders in natural physical world. We humans are all tiny units in this complex system of orders, living and surviving in accordance with the overall trend.
As the first work in the series, HIDDEN ORDERS_overture chooses to reinterpret the hidden orders of our entire world from a macroscopic and physical perspective. In this way, tries to reconstruct a new world view of orders in the transition between the physical and digital worlds.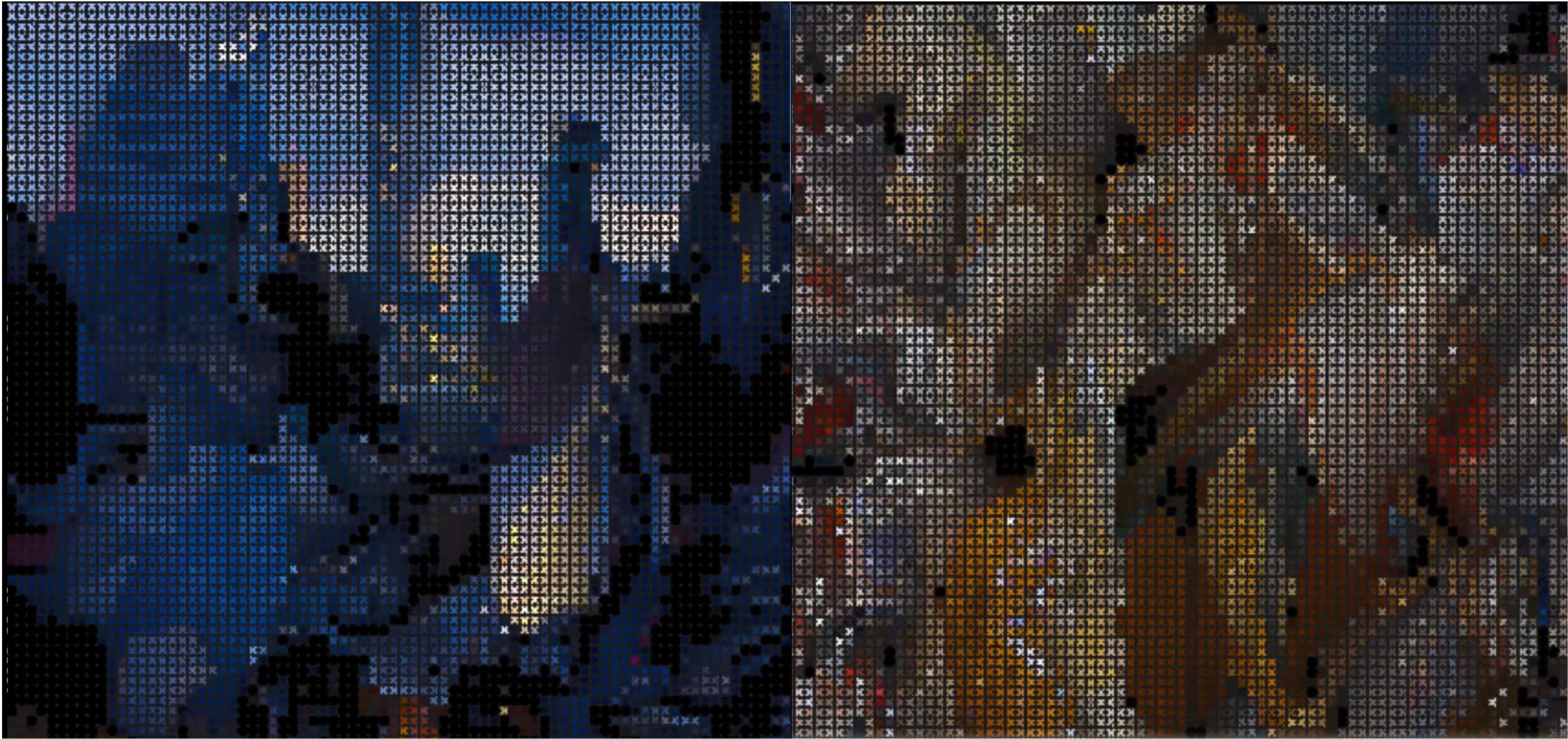 HSU Hsun-Hsiang is a new media artist, and was born in 1990. Now he currently lives and works in Bremen, Germany. His Interactive artworks focus on the integration of sculpture, light, and indoor/outdoor space. He specializes in integrating and contextualizing multiple media within diverse spaces, and concentrates on creating exceptional sensual experiences. In 2009, he founded NANONANO. 
◉ CHAO Pei-Yu Concurrent of Root(s) ◉
Concurrent of Root(s) is an experimental system which combines generative art and plant growth. By providing a co-owned space, an attempt is made to find out how the Internet affects the human time concept as humans produce connections among and interfere with one another in this unlimited and timeless Internet world.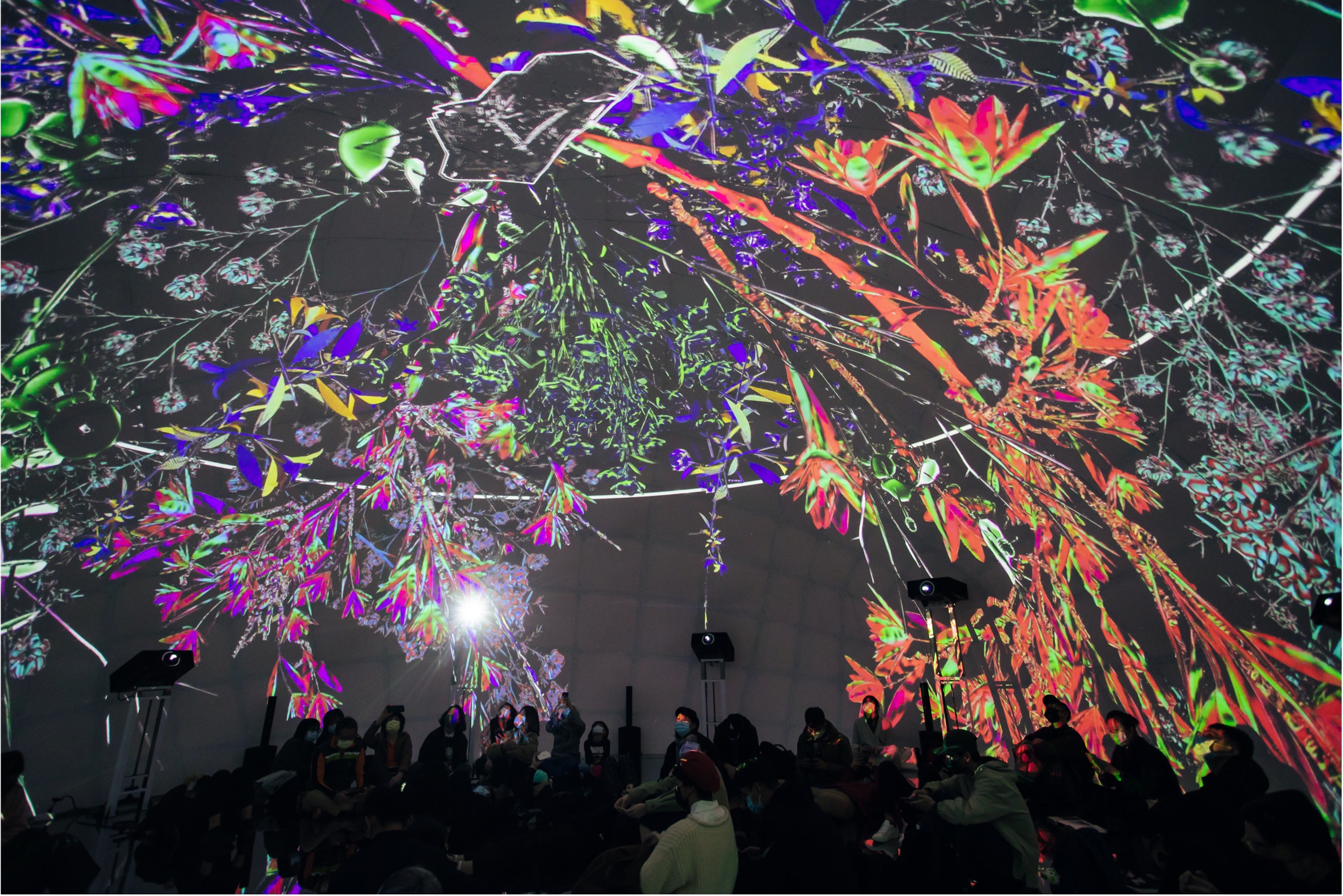 CHAO Pei-Yu was born after 2000, and graduated from the New Media Art at Taipei National University of the Arts. CHAO Pei-Yu's recent projects have focused on the relationship between the Internet and the self.
◉ CHUANG Ho Night Walk ◉
Lying in a room, looking up at the ceiling, the soul walks out the door, into the mountains.
This film starts with an insomniac landscape as the ceiling of a room slowly emerges. Messy lines move about in the dark, floating and exploring like a ghost in the house. Outside, there are street lights and car lights. The sounds of cars become distant while walking toward a forest. At the end of the film, the audience leaves, bringing a dream with them.

CHUANG Ho's art is rooted in natural, rough, and rugged hand drawn lines. His unwavering belief is that every frame that is hand drawn on paper produces value in terms of time and space, which is irreplaceable in the physical world. This value cannot be produced through digital drawings.
◉ Medusa Lab UNINVERSE ◉
UNINVERSE is an audiovisual immersive journey about the essence of the universe, the most basic structures that make up life. A journey that takes us through the macro and the microscopic worlds which allows us to gaze at the similarities in the essence that unveils the topographies of existence beyond scale.
UNINVERSE IS LIKE A SEED, A UNIVERSE THAT UNFOLDS WITHIN ANOTHER UNIVERSE.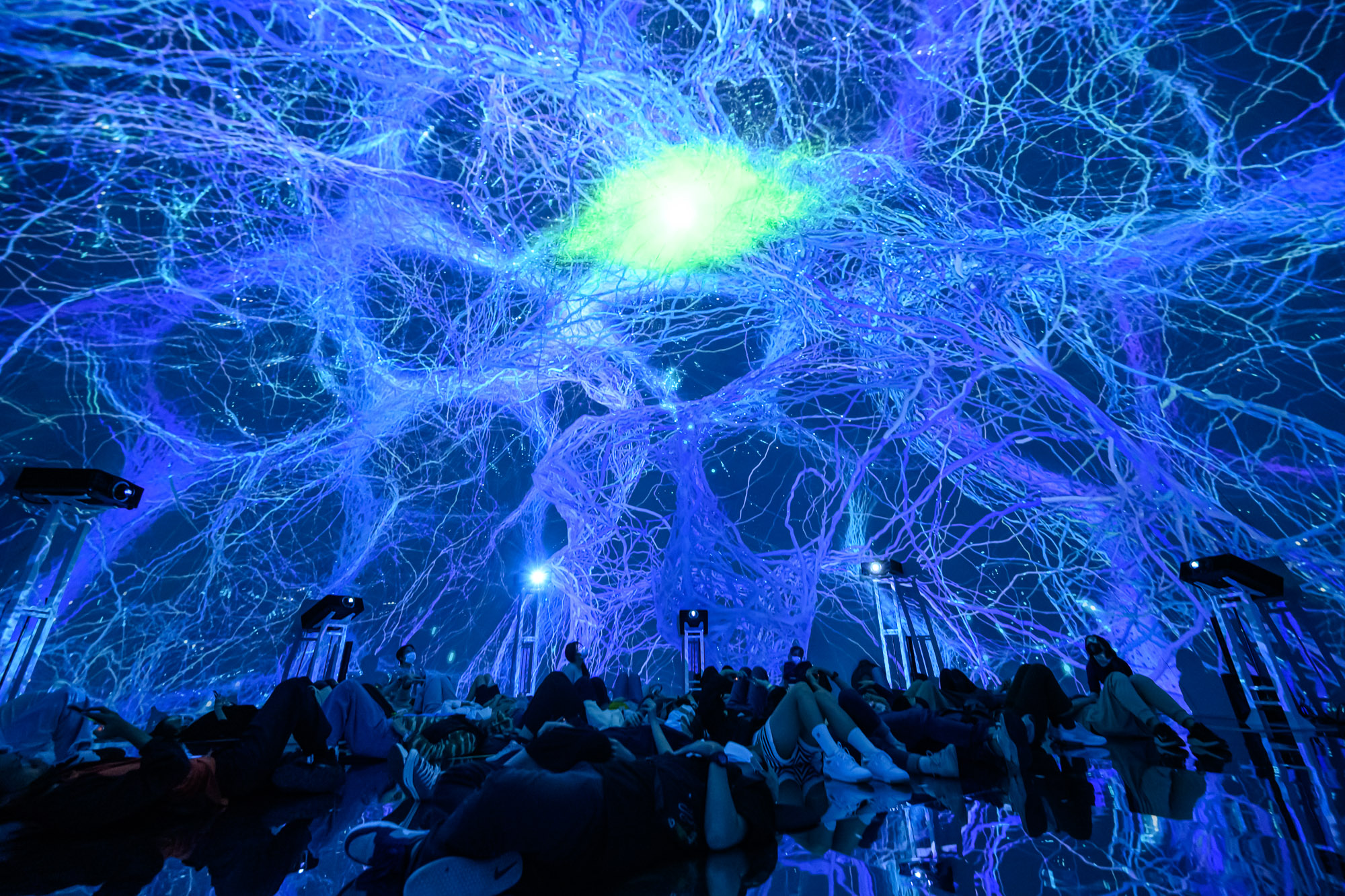 Medusa Lab is an interdisciplinary artist laboratory from Mexico City founded in 2013 by a creative team. The studio has become one of the most experienced in Immersive Video Mapping, Mixed Reality, and Expanded Scenography projects in Latin America. Abroad, Medusa Lab has received multiple awards and represented Mexico in events such as the 14th Venice Architecture Biennale, the Day of the Dead Installation in Shanghai in 2015; Second Prize in the International video mapping Competition of the FIMA 2016 mapping festival; Winner of the XII National Staging Competition in Costa Rica; and First Prize in the SPACE VJ Meeting in Poland in the Fulldome category.   
Created by Medusa Lab
Artistic Director: Ary EHRENBERG
Producer: Roberto MONTIEL, Lius RUEDA
Visual Content: Carlox XIMENES, Ivan Acosta, Eduerdo OLMEDO, Moises REGLA, Ary HRENBERG
Music and sound designer: Naked Geometry
◉ CHEN Yu-Jung Dynamic Boundary- Heterogeneous Convolution ◉
Dynamic Boundary- Heterogeneous Convolution mainly focuses on the accumulation and superposition of Taiwan's mountains and rivers. "Wrinkle" also refers to a physical presence that escapes reality and moves towards the endless time loop in the future and the past. The stacking of layers of vision and sound shapes the heterogeneous experience and variation in body perception. Through the generation of data-visualizing operations, you can see the trajectory of time flow and the rhythm of nature, listen to the rhythm in the wind, and find the sense of belonging to yourself and the land on the axis of time. Just as Deleuze mentioned in Difference and Repetition that the "folds" are in a state of rheology, in the process of deposition of natural rock formations, the accumulated textures form complex reincarnations. The artist hopes to use this as the technical and conceptual basis for the construction of visual and auditory experience, and use "superposition" as the basic propositional framework to explore the visible and invisible images in Taiwan's natural environment, and to expand the boundaries of hearing and vision, so as to experience the landscape that has never disappeared in life.

CHEN Yu-Jung is a sound and multimedia artist based in Tainan, Taiwan. He thinks about the relationship between space, nature and life with contemporary sound. Through the translation of sound narrative, his work induces the intermediary state of the human body in time and space. At the same time, he opens up the body's perceptual experience as a system connecting inner emotions with outer space. In recent years, he has conducted resident creations and exhibitions in Taiwan and abroad, including in New Zealand, Netherlands, South Korea, Japan, Taiwan, etc.
◉ 9 Grid Design BURN ◉
BURN is a work of visual art with energy transmission at its core. Combined with a choreographic performance filmed and edited, it transforms physical kinetic energy and acoustic sound waves into visualized energy impacts, rendering an immersive, sensational, audiovisual performance born from particles colliding with each other for audience. The work falls into three sections, i.e. Air, Water, and Fire. The tension of life is displayed in the form of human postures. It is a burst of inner power, overflowing outwardly, to turn the domed venue into a mega energy field. The imagination for transmission converges the vision of the crowd upward. Echoing the energy flows between firmament and earth, it seeks to probe into the bond between humanity and nature.

9 Grid Design, is run by artists CHEN Hsuan-Ming and Atz HUANG, primarily producing works of visual art, spatial exhibition, cultural asset development, art projects as well as various interdisciplinary collaborative projects besides investigation into relationships between locality and creativity. In recent years, it was involved in multiple large audiovisual exhibitions/performances, visual design for music concerts and performing art projects domestically, dedicated to the diversified possibilities in developing the fusion of image and reality.
◉ XTRUX x SHENG Insight ◉
Nowadays, these is another kind of reality: Virtual Reality. Different identities and various types of senses in technology trends that we need to think about. 
"Necromancy" is one of Taiwanese religions and cultures. During the ritual of necromancy, the artist found the relationship between venerable master and blindfolded believers really interesting. Believers gradually feel reality in the description or the "scene" of consciousness. This work tries to experience the upside way of virtual reality in a virtual scene of creation. Through the simplicity of begin, this work follows the sounds to gradually create a scene and world. Sound production of this work along with artist SHENG. The artist was used to integrate ambient sounds and field recording into traditional Taiwanese music. He tries to interpret different appearance of modern and traditional instruments which based on digital music technology. In the integration of east and west world-views EDM scene, this work can attempt some limits of the audiovisual works.
XTRUX, founded in October 2020 with a number of creators whose works focus on new media art, and has recently developed in artistic creation with elements such as Metaverse, Video Game, Motion Capture, Sound Art(Klangkunst), Light, Installation, Rave, Audio-visual, etc. Their creative practice mainly focuses on the interaction of "virtual world, digital identity, and Taiwanese folk beliefs" with the attempt to reshape the relationship between virtual and immersive media.
YANG Sheng-Wen (Sheng) is a sound artist and music producer whose works wander the sonic space of acoustic, explorative reality and glitch, psychedelic distortions, falling somewhere between theatre, film, and sound experimentation. Sheng's current project combines a variety of elements and techniques, such as Foley, ambient sound, field recording, test tones, and traditional instruments. In an attempt to create an electronic sound that belongs to the future worlds.
◉ Warrick TSAI Data Packet Collider ◉
This is a online multi-user interactive mechanism, audience can conduct a series of interactions and conversation at their will by connect to the web app through the mobile, the interface includes various transmissible/receivable attribute data element packets, like a button, a text message, one buzz and a series of hazy notion data packet, all colliding to each other vehemently.

Warrick TSAI, based on the background of the Information industry to the realm of New Media Arts, graduated from TNUA New Media Art Department, co-founded the "Winnowork" art studio, current project principal of the FUTURE VISION LAB project. Warrick is dedicated in analog and digital translation, and is specialized in integration of hard/soft wares, system design, computing generating, audio and lighting devices etc. Exploring the various possibilities between different techniques and materials.
Sound Designer: Blaire KO
◉ Tim WEI Chaotic Grammar ◉
We must dive into the chaotic grammar of the world in order to understand the pain or joy therein, and stomach the long, long nights.
Chaotic Grammar is a real-time algorithmic performance of audio-visual immersion. The performance process is based on keyword searching to generate corresponding models and sounds. Through free combination and mutual appropriation, a surreal and treacherous process of deduction unfolds, and a new space is created by gazing directly into chaos and teasing out the subjective world.

Tim WEI, graduated from the Department of New Media Art, Taipei National University of the Arts (TNUA). His art practice engages in the creation of audio-visual performances and electronic installations, through which he explores social mechanisms as well as human behaviors and feelings through the intrusion from the society to quotidian life, and proceeds to deconstruct from the inside, then rebuild a sophisticated sense with progressive aesthetic. Technical Director of developing 5G immersive space, National Taiwan Museum of Fine Arts Visual and Interactive Program Design of "3x3x6"Taiwan Exhibition in 58th Venice Biennale.
◉ HUANG WeiX CHENG Dao-Yuan X WONG Kuok-Pan INNERSTAR 01 : Reddening ◉
INNERSTAR is an audio-visual series co-presented by HUANG Wei and CHENG Dao-Yuan. The concept is based on the relationship between the universe and mind, inspired by astronomical phenomena and the exploration of consciousness and existence from a philosophical perspective. 
INNERSTAR 01: Reddening is the first work in this series. Reddening refers to the interaction between interstellar matter and light, resulting in scattering and wavelength shifts. Using relevant data and physical characteristics as the reference basis for visual and sound, an audio-visual immersive experience is presented with surround sound and dome projection. Soaked and enfolded with a dazzling, illusive atmosphere, viewers are able to be in the deepest space in their minds. The stars are in your heart, and you are the universe.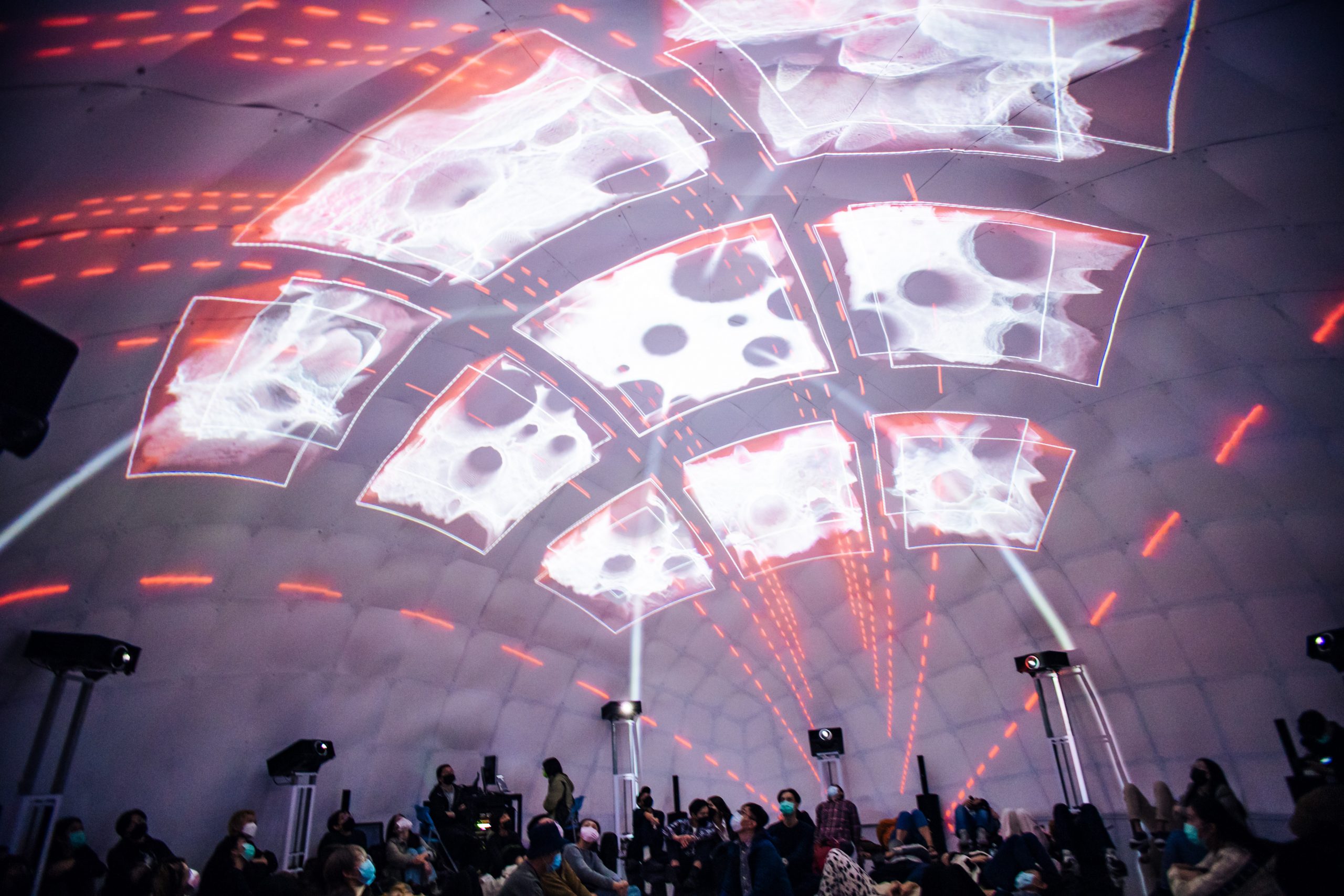 HUANG Wei specializes in audio-visual performances. His works are based on his observations of life. He emphasizes perception and sensory experiences, and is devoted to creating algorithm-based performances that combine images and sounds.
CHENG Dao-Yuan explores opposition and coexistence between self-state and essence with sound, visual and installation, and uses two distinct planes in a coherent form as the core concept in his works. He released his debut full-length album after his first overseas shows in Japan in 2019. In 2020, he made 7.1-channel surround sound design at NTMoFA. He is in residence of Hong Kong Community Radio and Currents.fm now.
WONG Kuok-Pan is dedicated in the research filed of Interactive design and development of new media. He explores human sensory perception through different elements and presentation methods. He has participated in the 2021 Rewire Festival/2020 Unsound Festival (NAXS Corp.).
Live Programs
◉ Telling Tent Institute of Fantastic Animals◉
Illustration Workshop X Theatre Performance X Live Illustration Interaction
A live interacting illustration performance with the main theme of creating fantastic animals leading  all parents and children audiences to participate in the event. All those random, limited, on-the-spot illustrated fantastic animals will be co-created with the interactions by the actors, the illustrators, and the audiences themselves. Using unlimited imagination to encourage children to develop their very own creation and weaving all kinds of rarely known facts and knowledge about animals into the performance, this parent and child program will be enriched with both biological knowledge and art creation that are developed together with all the audiences.
In the Institute of Fantastic Animals, the professor, the kitten assistant, and the puppy assistant work together with animal study and creation, creating fantastic animals by mythical power. And this year, the recruiting of little interns for the institute invites every child to participate in the designing proposal. The professor and the puppy assistant are putting together lots of previous cases that were proposed by the little interns before and getting ready to share with every new little intern, but the lazy kitten assistant seems to have arranged a cunning little plot on purpose. What kind of threats are jeopardizing our little interns' design? And will the professor figure out the kitten assistant's conspiracy in time to save the day? Let's find out!

Telling Tent, is a children's theatre with the concept of no boundaries. It is a new experience of combining children's arts and interactive technologies. We cooperate with young Taiwanese artists to create original animations. Stories are introduced by storytellers and audiences are surrounded with a hemispherical screen. There are sounds, scents, and a vibrating floor to make the audience feel they are on the scene. Marvellous animations with meaningful storylines combine with interactive technologies to offer you a whole new theatrical experience. It is a new way of performance.
Performance: 2p.m., 4p.m., from 10th Feb., 2023 to 12th Feb., 2023, 6 performances in total.
Duration: total in 60 mins, includes workshop 30 mins and performance 30 mins
Limited availability, please sign up here.
|Notice
▶ This family program is suitable for audiences aged 6 years and over.
▶ Tickets are required for all the participants, including adults and children.
▶ The performance includes two sections: the first section is illustration workshop, and the second section is theater performance. Latecomers will not be allowed to enter the venue once the performance begins.
▶ The performance will not open for audience to sign up on site. Please sign up as early as possible.
◉ FUTURE VISION PARTY ◉
In the name of "future vision", we are going to host an immersive audiovisual party at the historical warehouse in Hualien! This time, we gather all the artists who had collaborated in the previous editions of FUTURE VISION LAB, and present an unique audio-visual experience to the public via LIVE performance in the historical building at Hualien Cultural & Creative Industrial Park. Join us and have fun together!

Artists: CHANG Hsin-Yu, CHAO Pei-Yu, HUANG Wei X CHENG Dao-Yuan, Revlis HUANG X FAN Ching-Hung, WU Ping-Sheng
Performance: 3p.m, from 25th Feb., 2023 to 26th Feb., 2023, 2 performances in total.
Duration: total in 60 mins, includes workshop 30 mins and performance 30 mins
Limited availability, please sign up here.
|Notice
▶ Please arrive at the venue and complete your check-in 5 minutes before the performance starts. If the register fails to arrive 5 minutes before the performance starts, it will be regarded as abandonment of the seat.
FUTURE VISION LAB@Hualien Cultural & Creative Industrial Park
Principal|TSAI Chi-Hung
Technical Director|Revlis HUANG
Production Team|AnDing KANG, Emma LIAO
Architectural Design Team|HOU June-Hao, CHENG Chi Li
Construction|Group B, Graduate Institute of Architecture, TNNUA
Construction Consultant|James LIN
Sound Consultant|HSU Ting-Yu
Vision Design|CHUANG Teng-Hsiang
Photographer|LIN Hsuan-Lang
Video Team|Vincent SANG, KANG Sheng-Li, Eason SUN, Bernard CHANG
Opening Video Design|Tim WEI, 9 Grid Design
Supervisor|Ministry of Culture
Organizer |C-LAB
Co-organizer|Hualien Cultural & Creative Industrial Park
Executive Organizer|Technology Media Platform