As an experiment on kinetic choreography for the future, Metamorphose will bring an exquisite sensation by assembling the dancing body and gigantic medium in the immersive dome space. 
The body, the object, and the space, as the agent respectively, develop an organic bonding, constantly chiselling and transforming the textures of one another. The metamorphosis of perceived body movements leads to a new landscape of embodiment. Metamorphose liberates the imagination of dance moves and the essence of corporeal entities. Crossing the border of physical and virtual space, the audience, together with the dancer, can freely explore future choreographic aesthetics under the dome.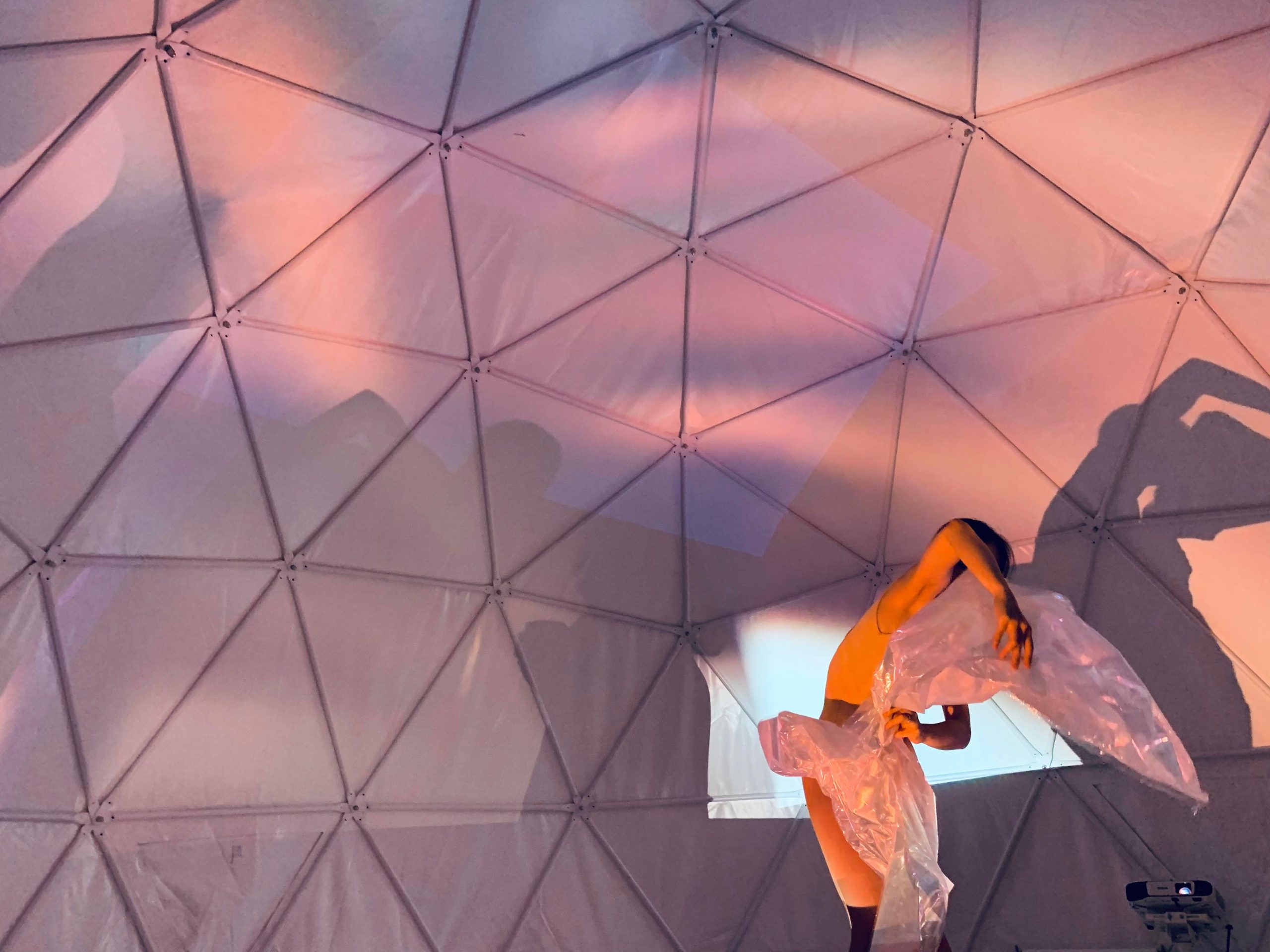 SU Wei-Chia, FreeSteps - Metamorphose, 2022.
|The Artist
Choreographer|SU Wei-Chia
Born in Kaohsiung, in 2004 co-founded HORSE. His numerous choreographies and collaborations include the group-created work Velocity, a winner of the 6th Taishin Arts Awards, and the autobiographical 2 Men, a collaboration with CHEN Wu-Kang, and the 1st prize winner and Audience's Choice Award of the 2013 Kurt-Jooss-Preis. From 2009 to 2013, he was invited by Eliot Feld to join the Ballet Tech in New York.
His ongoing project FreeSteps, launched in 2013, explores the relationship between contours, movements, characters, rhythm, music, and light.
As the Artist-in-Residence of the NTCH in 2016, he continuous dancing, creating, and focusing on the social responsibility of a dance artist to share the joy of dancing everywhere.
Performer|CHEN Pei-Yung
Freelance dancer and dance teacher. She received a Master's degree in Dance Performance at National Taiwan University of the Arts and works as the main dancer of FreeSteps series since 2015.
Production Team
Choreographer: SU Wei-Chia
Performer: CHEN Pei-Yung
Visual Design: HORSE
Administrator: JIANG Pei-Hsin
Date|11.25 (FRI) 19:00, 20:00; 11.26 (SAT) 17:00, 19:00 (4 performances)
Duration|20 mins
*The registration will be open at 12p.m., 14th Nov. (MON).
▶ Limited availability, and registration for each performance is needed.
▶ Latecomers will not be allowed to enter the venue once the performance begins. The performance will not open for audience to sign up on site. Please sign up as early as possible.
▶ For the epidemic prevention, taking temperatures, disinfecting hands, leaving personal information and keeping social distance are required, and audiences are required to wear masks at all times when entering C-LAB. Moreover, audiences whose temperatures are above 37.5℃ are not allowed entry.
▶ Programs may be subject to change.