Nowadays, these is another kind of reality: Virtual Reality. Different identities and various types of senses in technology trends that we need to think about. 
"Necromancy" is one of Taiwanese religions and cultures. During the ritual of necromancy, the artist found the relationship between venerable master and blindfolded believers really interesting. Believers gradually feel reality in the description or the "scene" of consciousness. This work tries to experience the upside way of virtual reality in a virtual scene of creation. Through the simplicity of begin, this work follows the sounds to gradually create a scene and world. Sound production of this work along with artist SHENG. The artist was used to integrate ambient sounds and field recording into traditional Taiwanese music. He tries to interpret different appearance of modern and traditional instruments which based on digital music technology. In the integration of east and west world-views EDM scene, this work can attempt some limits of the audiovisual works.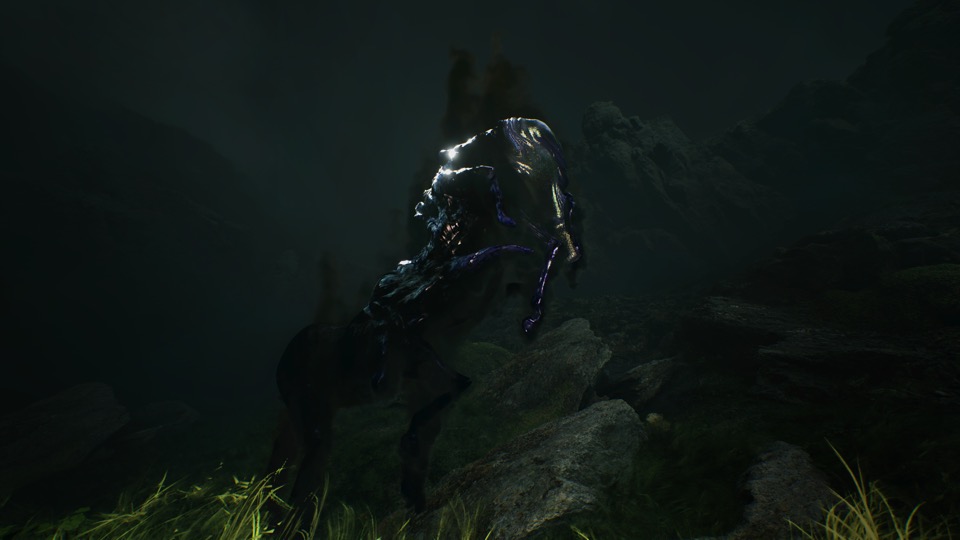 XTRUX,《觀》,2022。
|藝術家簡介
XTRUX
XTRUX, founded in October 2020 with a number of creators whose works focus on new media art, and has recently developed in artistic creation with elements such as Metaverse, Video Game, Motion Capture, Sound Art(Klangkunst), Light, Installation, Rave, Audio-visual, etc. Their creative practice mainly focuses on the interaction of "virtual world, digital identity, and Taiwanese folk beliefs" with the attempt to reshape the relationship between virtual and immersive media.
YANG Sheng-Wen (SHENG)
Born in 1985 in Tamsui, Taipei, YANG Sheng-Wen (SHENG) is a sound artist and music producer whose works wander the sonic space of acoustic, explorative reality and glitch, psychedelic distortions, falling somewhere between theatre, film, and sound experimentation. SHENG's current project combines a variety of elements and techniques, such as Foley, ambient sound, field recording, test tones, and traditional instruments. In an attempt to create an electronic sound that belongs to the future worlds.
Date|11.11 (FRI) 19:00, 11.12 (SAT) 19:00, 20:00,
11.13 (SUN) 17:00, 11.20 (SUN) 17:00 (5 performances)
*Part of performances also screens 9 Grid Design's Burn or LEE Chen-An x Daniel CHENG's Enter the Cave: Dome.
Duration|total in 24 mins, includes Burn 12 mins and Insight 12 mins
Limited capacity, please sign up here.
▶ Limited availability, and registration for each performance is needed.
▶ Latecomers will not be allowed to enter the venue once the performance begins. The performance will not open for audience to sign up on site. Please sign up as early as possible.
▶ For the epidemic prevention, taking temperatures, disinfecting hands, leaving personal information and keeping social distance are required, and audiences are required to wear masks at all times when entering C-LAB. Moreover, audiences whose temperatures are above 37.5℃ are not allowed entry.
▶ Programs may be subject to change.