BURN is a work of visual art with energy transmission at its core. Combined with a choreographic performance filmed and edited, it transforms physical kinetic energy and acoustic sound waves into visualized energy impacts, rendering an immersive, sensational, audiovisual performance born from particles colliding with each other for audience. The work falls into three sections, i.e. Air, Water, and Fire. The tension of life is displayed in the form of human postures. It is a burst of inner power, overflowing outwardly, to turn the domed venue into a mega energy field. The imagination for transmission converges the vision of the crowd upward. Echoing the energy flows between firmament and earth, it seeks to probe into the bond between humanity and nature.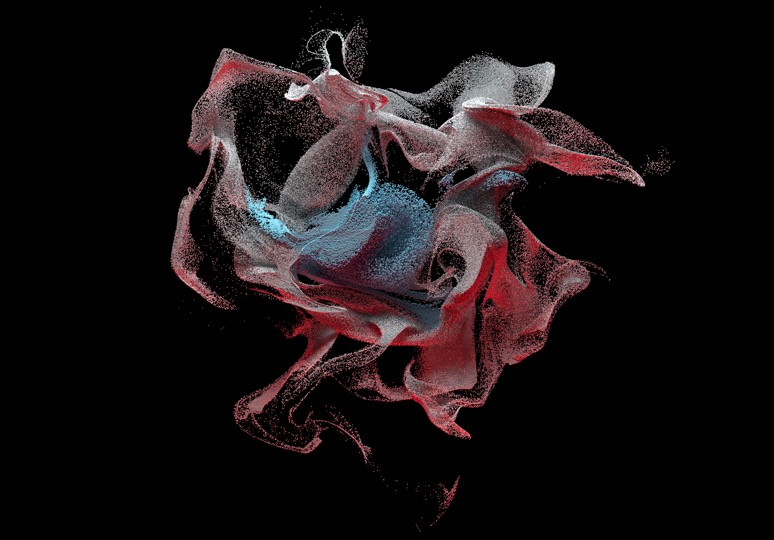 9 Grid Design, Burn, 2022.
|The Artist
9 Grid Design
The firm is run by artists CHEN Hsuan-Ming and Atz HUANG, primarily producing works of visual art, spatial exhibition, cultural asset development, art projects as well as various interdisciplinary collaborative projects besides investigation into relationships between locality and creativity. In recent years, it was involved in multiple large audiovisual exhibitions/performances, visual design for music concerts and performing art projects domestically, dedicated to the diversified possibilities in developing the fusion of image and reality.
Plan and executive: CHEN Hsuan-Ming、 Atz HUANG
Graphic designer:CHEN Hsuan-Ming、 Atz HUANG
Visual designer and executive: Atz HUANG
Music supervisor / Composer: CHEN Pei-Yuan
Dance creating and performer: HSIEH Chih-Ying
Date|11.04 (FRI) 19:00, 20:00; 11.06 (SUN) 17:00, 19:00
11.12 (SAT) 19:00; 11.13 (SUN) 17:00; 11.20 (SUN) 17:00 (7 performances)
*Each performance also screens LEE Chen-An x Daniel CHENG's Enter the Cave: Dome or XTRUX X SHENG's Insight.
Duration|total in 22 mins, includes Burn 13 mins and Enter the Cave: Dome 9 mins
*Limited capacity, please sign up here.
▶ Limited availability, and registration for each performance is needed.
▶ Latecomers will not be allowed to enter the venue once the performance begins. The performance will not open for audience to sign up on site. Please sign up as early as possible.
▶ For the epidemic prevention, taking temperatures, disinfecting hands, leaving personal information and keeping social distance are required, and audiences are required to wear masks at all times when entering C-LAB. Moreover, audiences whose temperatures are above 37.5℃ are not allowed entry.
▶ Programs may be subject to change.