Enter the Cave: Dome is a visual art of computation complex geometry. Create life-forms that do not exist in this world by designing computer algorithms, consciousness are formed after countless iterative calculations, like indistinguishable creatures or unknown caves. These works are like the remains of different codes, for the viewer to admire the accumulation of their complex evolution to this life, and become immersed in its last appearance when it passes away. By this appearance, can the program convey to us who it is? Hope we remember what it is, and continue to be a symbol of its "Being" in the viewer's mind.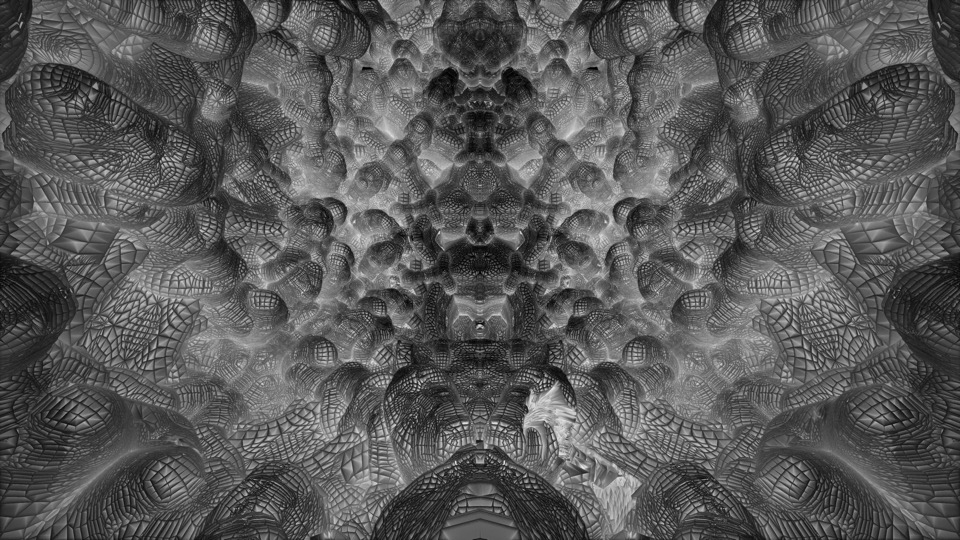 LEE Chen-An x Daniel CHENG, Enter the Cave: Dome, 2022.
|The Artist
LEE Chen-An
By using computer programming, digital manufacturing as creative media from 2012, his works have been exhibited in Taipei Fine Arts Museum, MoCA Taipei and other places. 
Daniel CHENG
The phenomenon in the nature and the inner thinking of people, people and self are discussed in his works. He uses instrumental music, projection and installation combination of the stage to create multimedia music of art.
Date|11.04 (FRI) 19:00, 20:00, 11.06 (SUN) 17:00, 19:00,
11.11 (FRI) 19:00, 11.12 (SAT) 20:00, 11.20 (SUN) 17:00 (7 performances)
*Each performance also screens 9 Grid Design's Burn or XTRUX X SHENG's Insight.
Duration|total in 22 mins, includes Burn 13 mins and Enter the Cave: Dome 9 mins
*Limited capacity, please sign up here. 
▶ Limited availability, and registration for each performance is needed.
▶ Latecomers will not be allowed to enter the venue once the performance begins. The performance will not open for audience to sign up on site. Please sign up as early as possible.
▶ For the epidemic prevention, taking temperatures, disinfecting hands, leaving personal information and keeping social distance are required, and audiences are required to wear masks at all times when entering C-LAB. Moreover, audiences whose temperatures are above 37.5℃ are not allowed entry.
▶ Programs may be subject to change.