Minimal Input – Algorithmic Art Gathering's Screening Session showcases a series of algorithmic audiovisual and video works by the artists, including Richard SIDES, Tivon RICE, Musarc x LIN Chi-Wei, CHENG Hsien-Yu, William FIELDS, Software2050, Ale Hop and Ksawery KIRKLEWSKI, which will be screened all day at both Art Space V and Art Space IV at the C-LAB.
Minimal Input is a three-day audiovisual art festival. It starts with algorithmic composition, and extends further to generative art, modular electronic sounds produced by programming/sequencing, audiovisual performances of live coding, and the "algorave" culture emerging in recent years. For three consecutive nights, live parties combined with online and live performances will take place at C-LAB's Art Space V, which brings together electronic musicians and artists active in the field. In addition, the festival includes several talks, workshops, and public participation activities to help the audience navigate the algorithmic realm of audiovisual creation.
More details: https://clab.org.tw/events/minimal_input_2022/
──Screening Infomation──
7/1 (Fri.)–7/03 (Sun.) 11:00–22:00
Art Space IV
11:00 / 13:30 / 16:00 / 18:30
*Each session presents four works in sequence as below, total duration 2 hrs. 20 mins.
Richard SIDES, Don't Blow It in the Vector (2014)
Musarc+LIN Chi-Wei, Tape Music: Score For Musarc (2015)
Tivon RICE, Environment Built for Absence (2018)
CHENG Hsien-Yu, (We are just saying how you are ruling) (2020)
Art Space V: Screening Room
11:00 / 12:30 / 14:00 / 15:30 / 17:00 / 18:30 / 20:00
*Each session presents three works in sequence as below, total duration 1 hr. 26 mins.

 Ksawery KIRKLEWSKI: Music Videos(2019–2022)
Software2050, Machine Folklore (2022)
Ale Hop, Why Is It They Say a City Like Any City? (2022)
Art Space V: The Box
11:00–22:00 (playback on a loop)
William FIELDS, coords (2017)
──Films──
Don't Blow It in the Vector
Richard SIDES
single-channel video | 71'58" | 2014
The film is a feature-length documentary continuing Sides's interest in computer music and cultural space, and focuses on four musical practitioners: Theo Burt; Roc Jiménez de Cisneros (EVOL); Mark Fell; and Lorenzo Senni. Filmed over a six-month period, in Rotherham, York, Barcelona and Milan, the film comprised a montage of musical samples recorded live in-situ, conversations with the four protagonists and insights into their everyday life. It reveals an experimental universe that feeds the hedonistic techno club scene but is far away from its glamour; instead, it is a world full of digital algorithms and references unknown to the normal music consumer. However, within the specialised discourse, the same questions as in all other areas of artistic production arise: it examines cultural idiosyncrasies that determine the adoption of music; tradition and convention, and the relation between construction, emotion and expression. Here, as elsewhere in Sides's video work, visual reflections and temporary narratives display a dramatic, troubled, yet hopeful ignorance: a faux-self-criticism for a multi-faceted 'position within the social machine'.
Richard Sides graduated from Royal College of Art in 2012, He uses a variety of media, sound, performance, video and installation to explore notions of presence, temporality, complexity, conflict, as well as the relationship between people, music, and technology. Sides' work have been presented at many major art institutions, such as, Kunsthalle Winterthur, Kunstverein Hannover, Museum Angewandte Kunst, Frankfurt am Main, ICA, Warsaw's Museum of Modern Art, and Mostyn, Wales.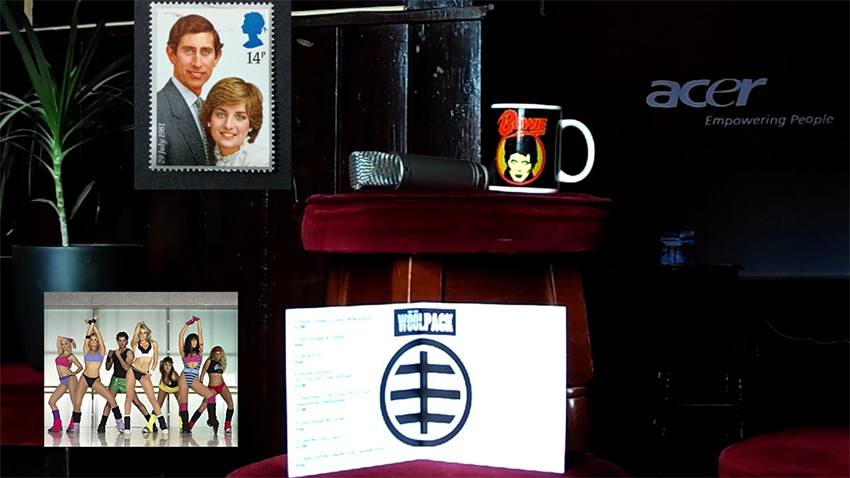 ***
Tape Music: Score For Musarc
Musarc+LIN Chi-Wei
Director of Photography: Yiannis KATSARIS | Produced and Directed: Joseph KOHLMAIRE
performance, video | 25'19" | 2016
Inspired by futurists' soirées, J.J.Lebel's Polyphonix and Taoist Chantings, LIN Chi-Wei's Tape Music series mimics the mechanical reading process of the magnetic tape with scrolls of musical scores embroidered upon it. The long "tape" is transmitted to the participants, who may improvise the recitation spontaneously, Albeit, without a conductor or any rehearsals, an elaborate choir was orchestrated, from which an ever-evolving harmonic sound is gradually shaped. The series has been performed more than a hundred times since 2004, each time to varying effects due to the different makeup of the audience and the specifics of the venue. This has turned the performance into what Lin Chi-Wei has called "social measurements of sound." In 2016, Lin created Tape Music: Score for Musarc, which is a 240m-long special version of the tape for the London-based experimental choral collective, Musarc. Featured here in the screening session is the film documenting the group's performance of this work in the same year.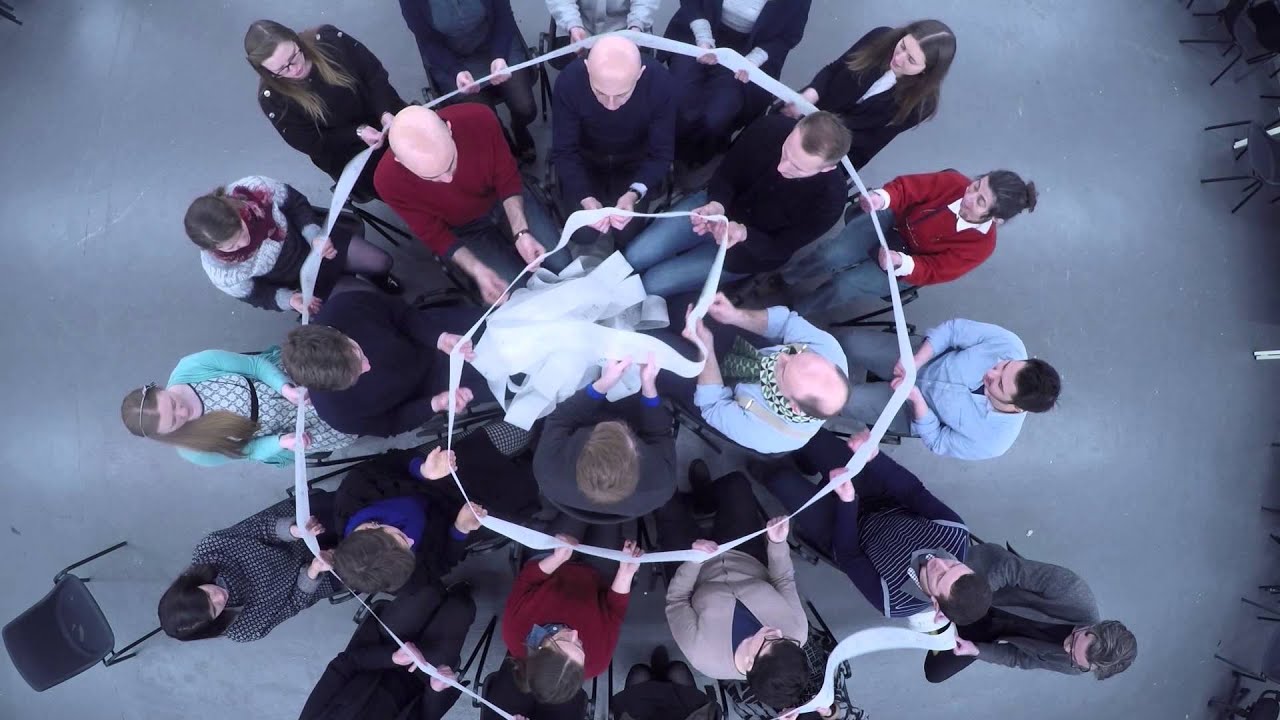 ***
Environment Built for Absence
Tivon RICE
single-channel video, computer-generated text (originally displayed as installation)
17'45" | 2018  
Beginning in late 2017, the demolition of the Netherland's Central Bureau of Statistics office created an extreme type of slow cinema for railway passengers travelling between The Hague and Amsterdam. Over the following year, as the building was methodically deconstructed from the top down, I visited the site each month to document the gradual erosion. Using a drone and a digital mapping process, photogrammetry, I created an archive of virtual 3D models. As the building's architecture and its inevitable collapse were reminiscent of J.G. Ballard's 1975 High Rise, I further sought to accompany this scene with the voice of a machine learning system trained on the complete corpus of Ballard's writing. This recurrent neural network generates texts that describe the materials, invisible bodies, and possible narratives residing within the broken grounds of the building. The resulting installation combines video, neon lighting, and the voice of the machine learning system. It debuted at the 2018 Modern Body Festival in The Hague's Theater de Nieuwe Regentes, a former swimming pool built in the 1920s.
Tivon RICE is an artist and educator working across visual culture and technology. Based in Den Haag (NL) and Seattle (US), his work critically explores representation and communication in the context of digital culture. With recent films, installations, and A.I. generated narratives, Rice examines the ways contemporary digital culture creates images, and in turn builds histories around communities and the physical environment.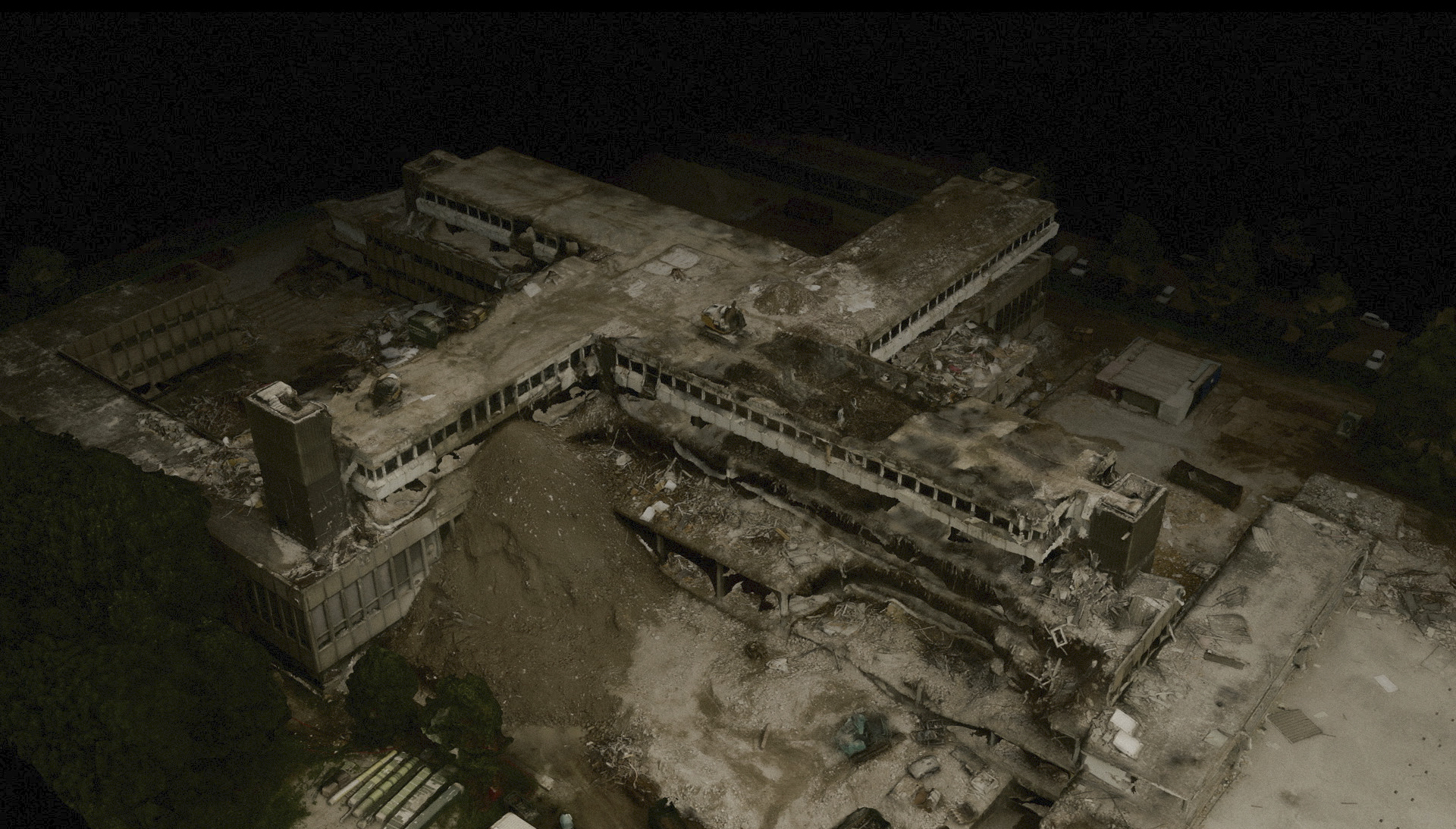 ***
(We Are Just Saying How You Are Ruling)
CHENG Hsien-Yu
AI-generated audiovisual | 8'12" | 2020 
Created by using internet image searches and Machine Learning, the work captures vast quantities of images using "human ecological destruction" as keywords, and condemns ecological extinction caused by human greed, waste, and development where the computer uses the first-person pronoun "I". What is terrifying is that through the algorithms and data analysis of autonomic learning and update enhancements, the computer begins to make accurate predictions and gradually becomes "omnipotent". Most human beings as well as entire nations become unable to control data, but are instead controlled by data. Of course, the fate of many animals is mutually wrapped up in national politics.
CHENG HsienYu graduated with a BFA from the Department of Theatrical Design & Technology, Taipei National University of the Arts, CHENG holds an MFA from the Frank Mohr Institute at the Minerva Art Academy, Hanze University Groningen, the Netherlands. As an artist and a software developer, CHENG's working process expands into electronic installations, software and experimental bio-electronic devices, with an aim to explore the relationships amongst human behavior, emotion, software and machinery. In a humorous manner, he attempts to endow his works with vital signs and existential or empirical significance, to metaphorically embody his own experience and observation of the environment.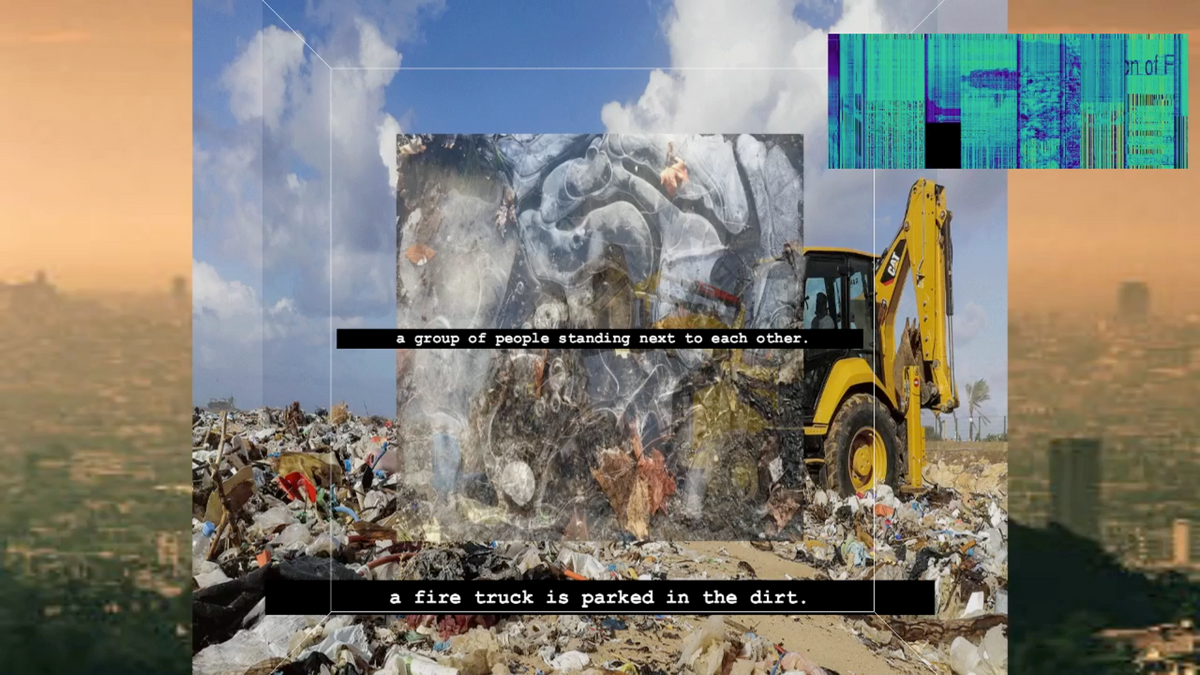 ***
coords
Willaim FIELDS
A/V album | Originally released on the label NOREMIXES | 23'00" | 2017 
William Fields' first solo album for NOREMIXES, coords, is an immersive A/V generative experience redefining our sensory reaction to composition and production. Since around 2012, Fields has all but abandoned composing on a piano roll, shifting his approach from composition to the improvisational and performative. Using a live performance rig that is extremely expressive and flexible, Fields' sound can morph instantly from pure ambience to complex rhythmic assault. His accompanying visual system is event and parameter driven - generating visuals that perfectly match the corresponding musical events. This strong audio/visual connection has long been a passion for Fields, seeing sounds as shapes and forms. He cites the music video of Autechre's "Gantz Graf" as a reference point and inspiration. With coords, everything is 100% generative and algorithmic. Fields programmed and configured the audio-visual system, pressed record, and let it run for 23 minutes. Every 45 seconds or so, the system jumps to new coordinates within the possibility space and a new world is created, even down to the track titles which are displayed in the live video. Not a single control, note, color, or visual form of coords was explicitly composed. He refers this generative approach to writing as being inspired by John Cage and Buddhism.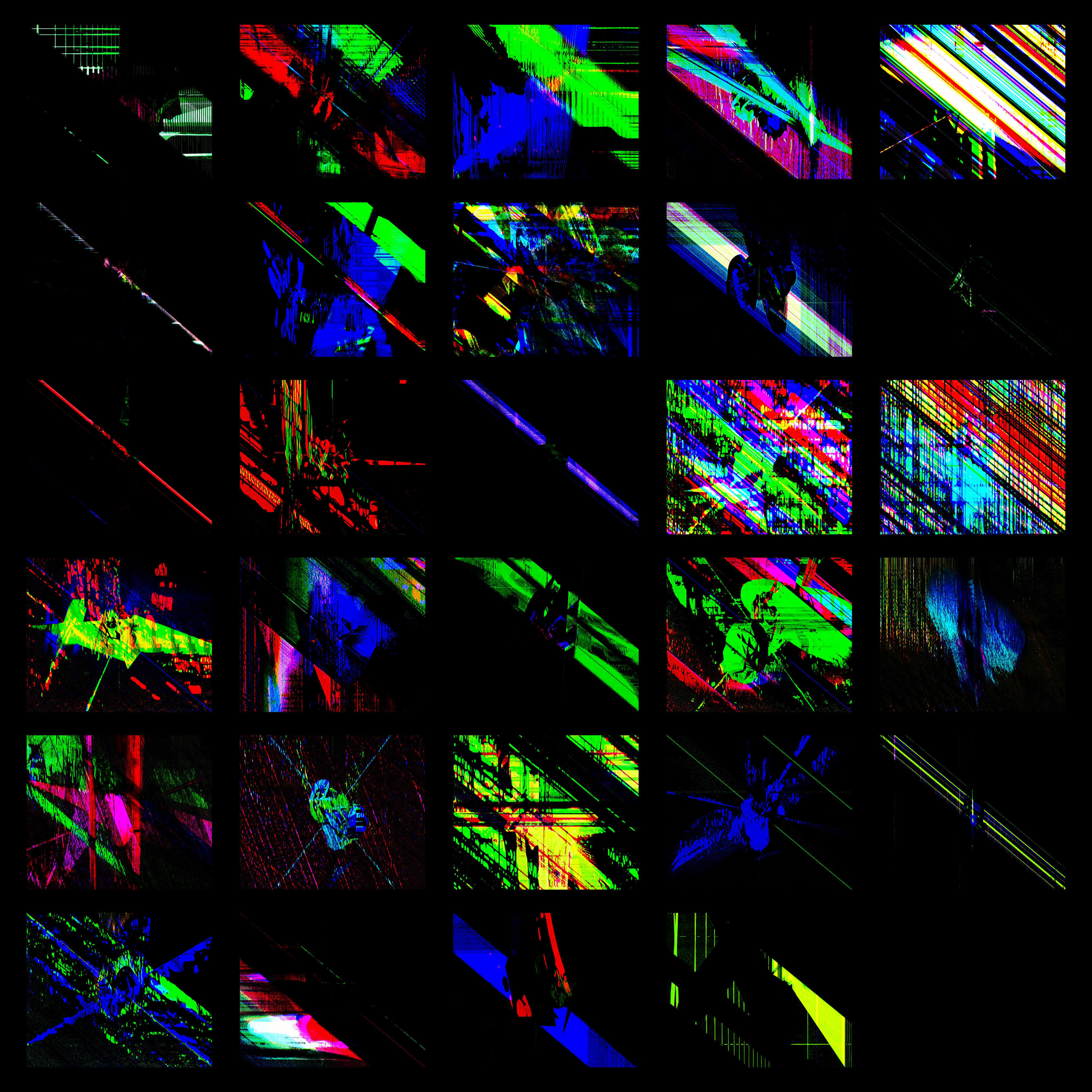 ***
Ksawery Kirklewski: Music Videos
Symphony Acid by Max Cooper | 5'36" | 2022
Hanging D by Joep Beving - Max Cooper Remix | 5'17" | 2021
bamb00 by Jacek Prościński aka wh0wh0 | 2'45" | 2021
KJZAA# by Sai Ga | 2'20" | 2021
Ya Tatu by delay_ok | 4'56" | 2019
The session presents five code-based music videos created by Ksawery KIRKLEWSKI. Symphony Acid is built as a generative and interactive website, symphonyinacid.net, and recorded afterwards. It features text from Tractatus Logico-Philosophicus (1921) by Ludwig Wittgenstein, and deals with limits of language. Hanging D is inspired by the idea of "data excavation" and programmed entirely in Processing in 4K, 60fps. bamb00 is a video designed and coded for "bamb00," a single by Polish drummer Jacek Prościński aka wh0wh0, which is accompanied by an interactive website bamb00.net. The video itself is a live record of a computer program coded in Processing, which reacts to the signal from the drums. For KJZAA#, the artist programmed a visual composer to generate random-moving color sets out of any given picture, with glitchy effects which were coded to react to sound volume. Then he recorded with a smartphone camera on a maximum zoom, which resulted in lo-fi effect. In Ya Tatu, every scene was prepared in Processing without the use of outsourced code.
Born in 1988, Ksawery KIRKLEWSKI is a motion designer and creative coder, who graduated from the Graphic Department of the Academy of Fine Arts in Gdańsk, PL. His creative practices include interactive installations, music videos, phigital sculptures and realizations in public space. He uses new technologies, programming, advertising media and old video equipment – mostly focused on the generative art field. In 2019, he co-founded Fundacja(x), a foundation which deals with the broadly understood art of new media and its dissemination.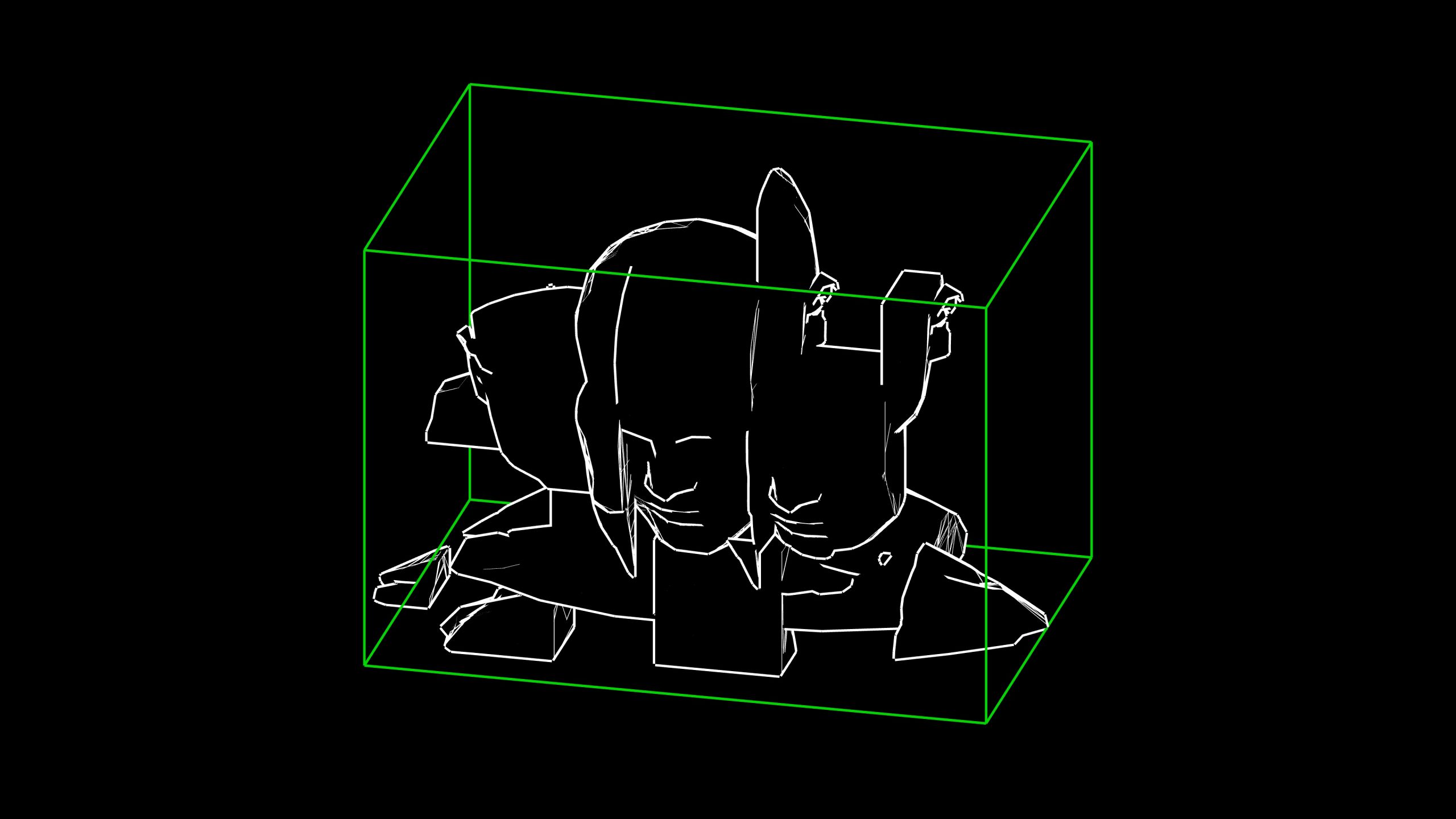 ***
Machine Folklore
Software2050
single-channel video | 15'00" | 2022  
Lonely artificial intelligence shuttles between quanta. It feeds on digital data of human civilization, trying to imagine the evidence that a species once existed.
Software2050 is the alias of an art project created by new media artist FONG Han-yu. The project is inspired by technology, animal, ancient civilization, and everyday memes. It starts with the machinic vision of fictional artificial intelligence, and utilizes poetic imagery to portray memory and imagined evolution, as well as a fable about the coexistence of humans and non-humans. Fong's work has been published in the forms of the social media event, multi-user interactive installation, online performance, digital sculpture, NFT, and live audiovisual performance. Fong graduated from the M.F.A. Program at the Department of New Media Art, Taipei National University of the Arts. He is co-founder of NAXS FUTURE (now NAXS CORP), a new media art studio. From 2021 onward, he has been consistently exploring the possibilities of immersive theater, VR, audiovisual, and online performance. (website | naxsfuture.xyz)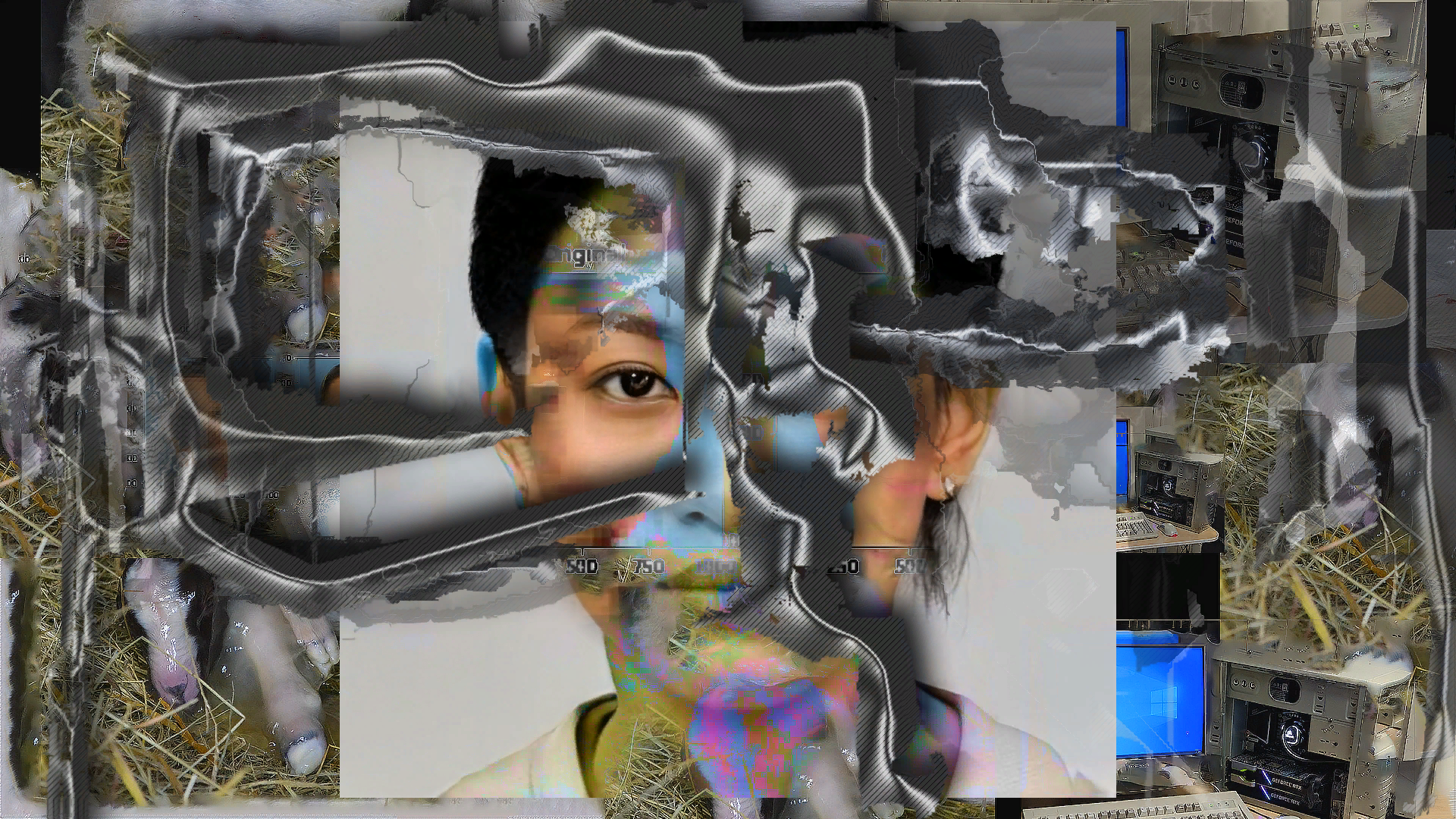 ***
Why Is It They Say a City Like Any City?
Ale Hop
single-channel audiovisual (originally displayed as installation) | 50'00" | 2022
Why Is It They Say a City Like Any City? is an audiovisual installation which was conceived in a context of immobility, and imagines a hallucinatory travel along South American territories, through sound and visual vignettes created in collaboration with thirteen musicians around the world, and an AI tool used to "translate" and "mistranslate" speech into image, creating different temporalities and points of view. During the lockdown months, Ale started a process of remote collaboration by sending messages, posted from various cities along a South American trip, to thirteen musicians who were summoned by the artist to respond with sound collaborations. Field recordings, mouth drumming, drone cellos, electronic loops, arrhythmic rhythms and voices came as responses to this experiment. Ale assembled them, along with her recorded voice of the messages, turning them into sonic vignettes of the South American territories. The visuals of the piece were created in collaboration with the Mexican technologist, and artist, Moises Horta. Using an Artificial Intelligence multi-modal neural network, Horta transformed the messages written by Ale, synthesizing them into free-flowing images. The visual imagery resembles the way memory works when triggered by words, by traveling freely through mental images unfolding them into open-ended assemblages of spaces and temporalities.
Alejandra Cardenas Pacheco (also known as Ale Hop) is a Peruvian-born artist, researcher, and experimental musician based in Berlin. Her body of work includes live shows, record releases, sound and video artworks, research on sound and technology, and original music for film, dance and theater projects.
Collaborating artists | Ana Quiroga, Concepcion Huerta, Daniela Huerta, Elsa M'bala, Felicity Magan, Fil Uno, Ignacio Briceño, KMRU, Manongo Mujica, Moises Horta, Nicole L'huillier, Raul Jardín, Sukitoa Onama, Tomas Tello.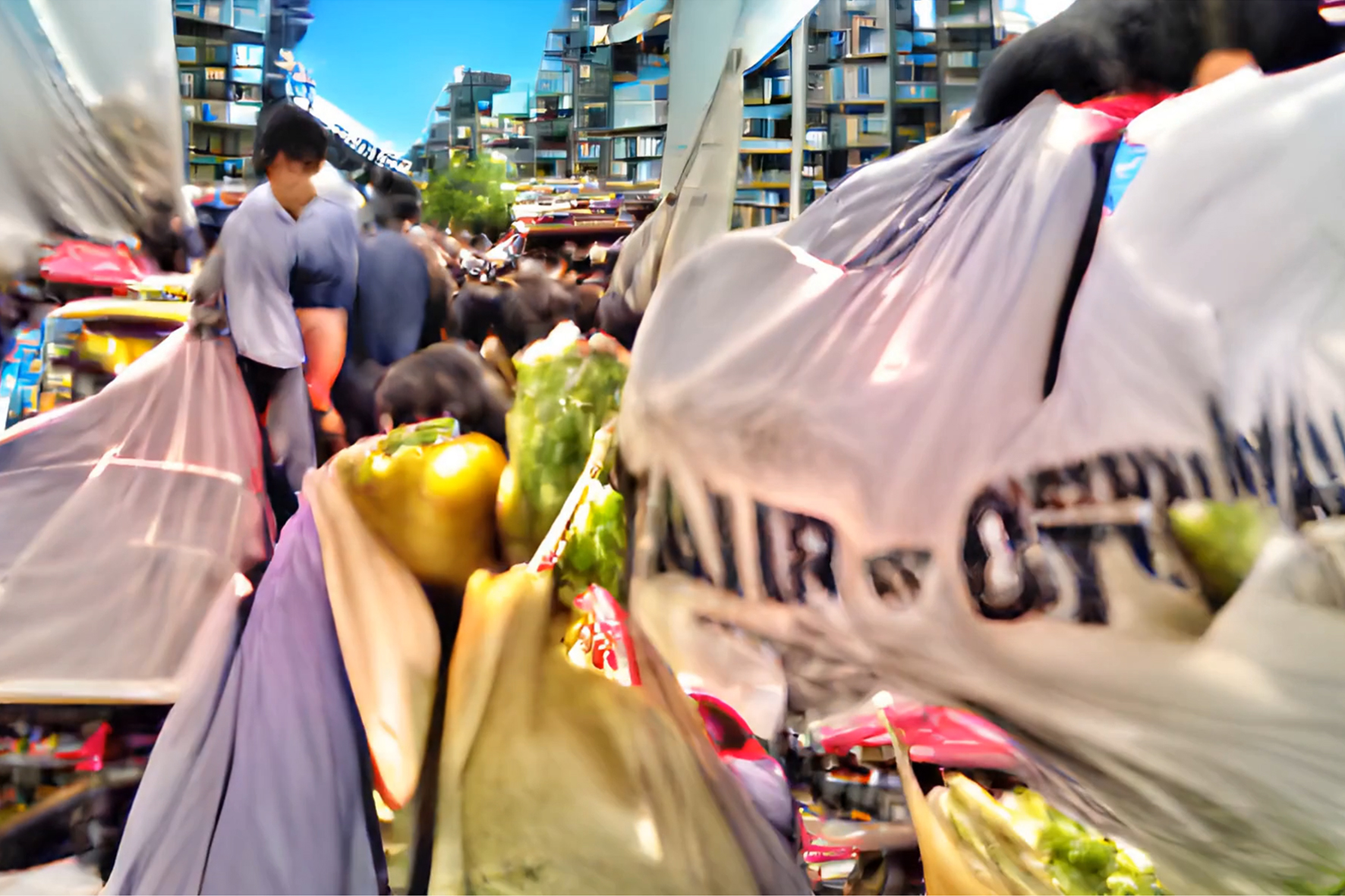 ────
Supervisor | Ministry of Culture
Organizer | Taiwan Contemporary Culture Lab (C-LAB)
Collaborator | Formosa Sound System, Eulerroom, Atomic Swap Electronic Music, Baby Don't Go
Key Visual | Renick Bell
▰ The schedule may be subject to change