In 2022, Asia Art Archive launched the personal archive of Mrinalini MUKHERJEE (1949-2015), a prolific sculptor from India. In conjunction with the launch of the archive, ...And It Is Something Which Grows in All Directions, an exhibition of documents from MUKHERJEE's archive was organised in New Delhi, India.
In this session, Noopur DESAI and Samira BOSE from Asia Art Archive in India will share the process of archiving and digitisation, and elaborate on their research methodologies. Their two-and-a-half year long immersion in the archive led to varied inquiries on the artistic research process, and the afterlives of artistic materials in archives. They will expand on their queries and investigations, and further, consider the potential of exhibitions to provide entry points to access and activate archives.
As a part of the 3-year "IAST (Independent Art Spaces of Taiwan)" public event program, the talk is facilitated by Taiwan Contemporary Culture Lab (C-LAB) and Asia Art Archive (AAA). It endeavors to further the research of art archives through inter-organizational collaboration and to bring into focus the potential publicness of such research, which energizes discussions relevant to the history of art spaces.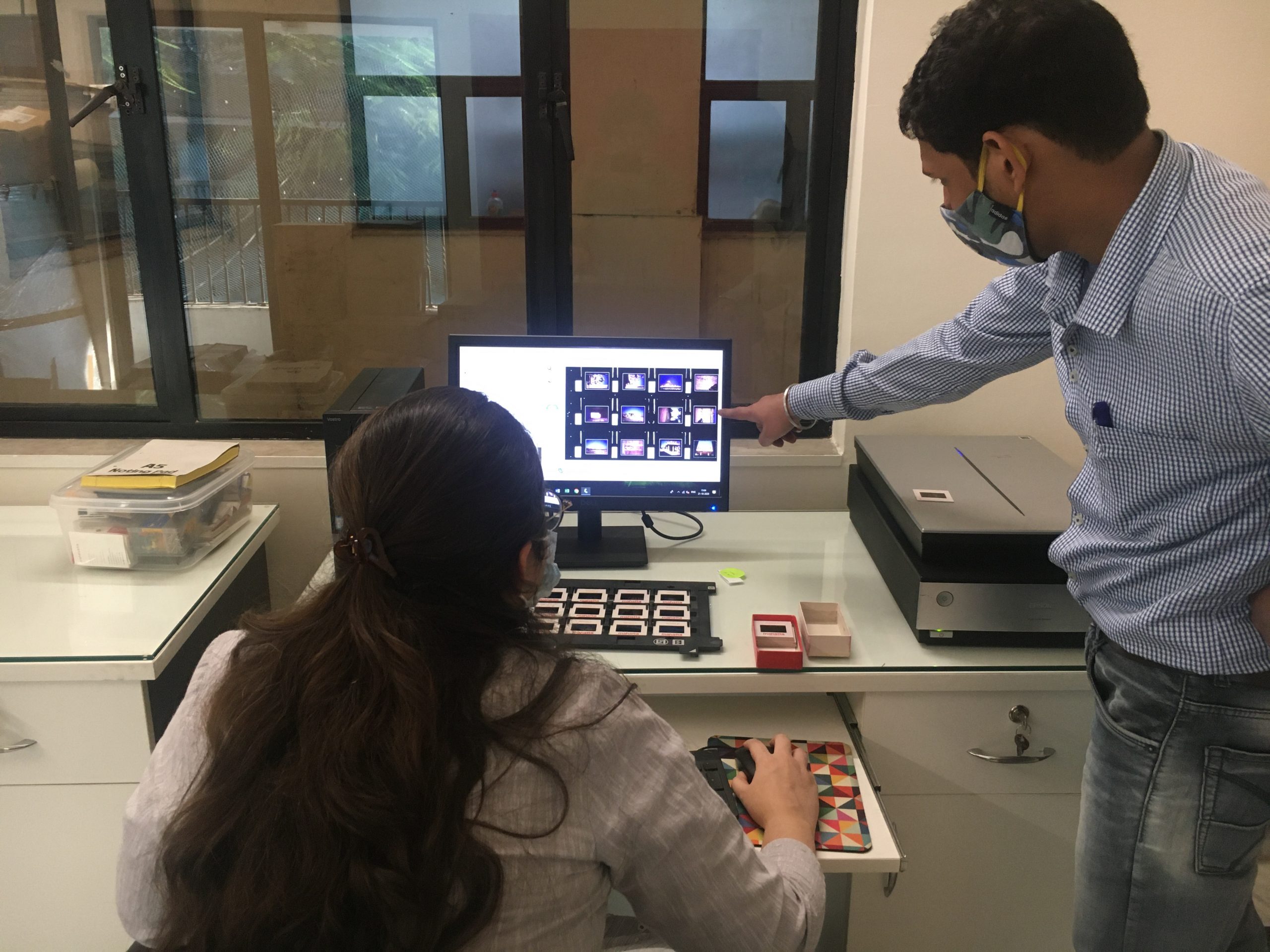 Image caption: The Mrinalini MUKHERJEE Archive team working on digitisation of the materials at AAA office in New Delhi, 2021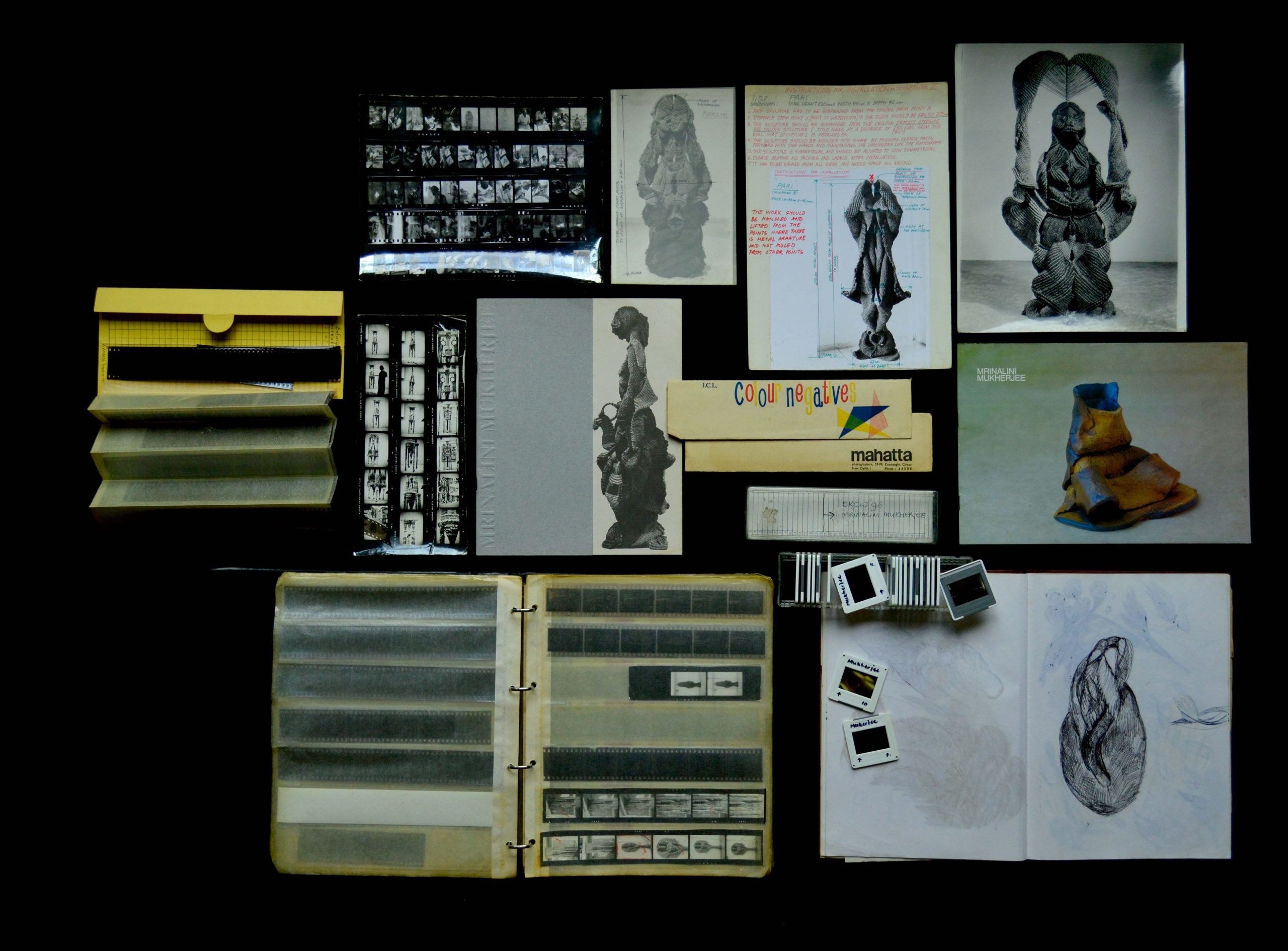 Image caption: Collage of materials from the Mrinalini MUKHERJEE Archive, Photo: Kashish KOCHAR
Image caption: Portrait of Mrinalini MUKHERJEE with her fibre work, Landscape (1972). Photo: Ranjit SINGH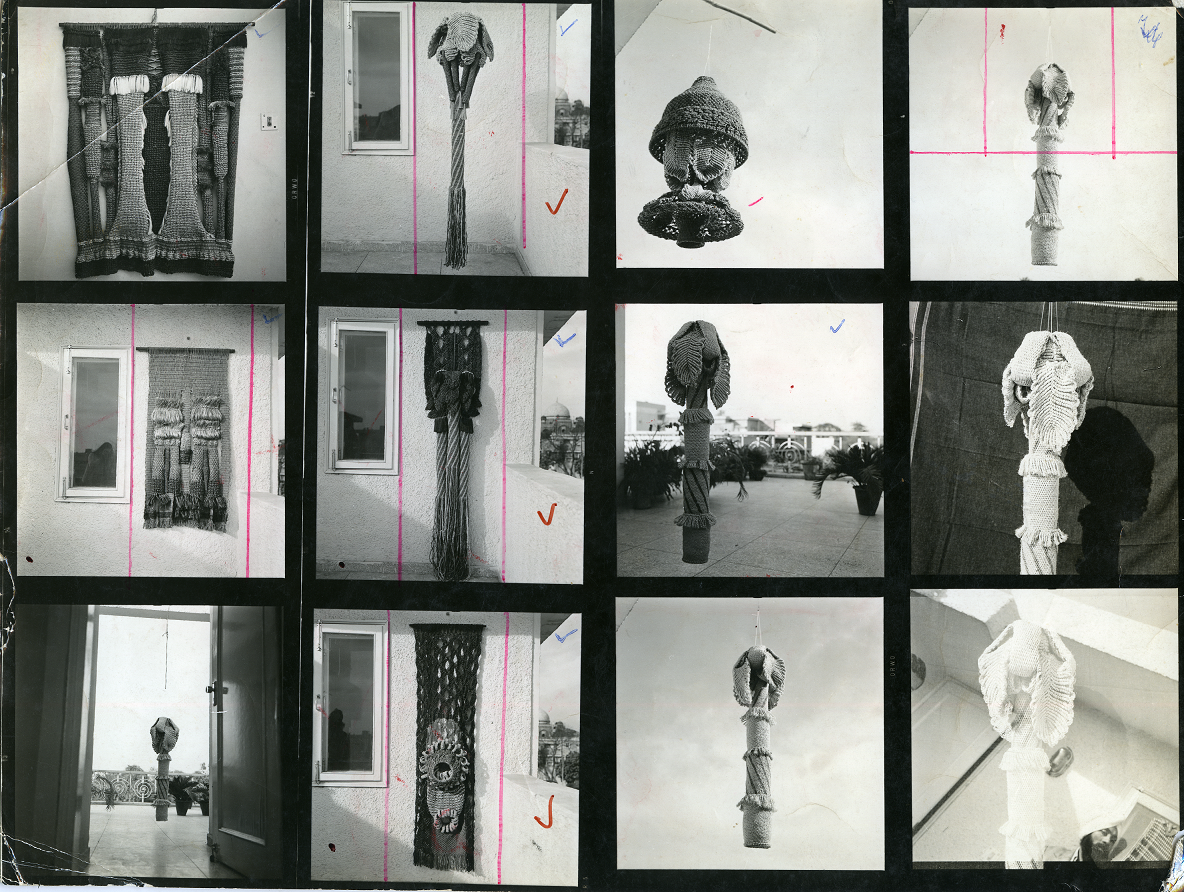 Image caption: Contact sheet of Mrinalini MUKHERJEE's early works in fibre
*All images from Mrinalini MUKHERJEE Archive. Courtesy of the Mrinalini MUKHERJEE Foundation and Asia Art Archive.
TIME: 2023.02.10 (FRI) 14:00–16:00
VENUE: R116 Multi-function Space of Creative Base for Animators
👉🏻Online Registration (Consecutive translation will be provided during the talk.)
*The talk will be live streamed on the C-LAB YouTube Channel. Advance registration is required before you arrive onsite.

SPEAKERS
|Noopur DESAI
Noopur DESAI is Researcher at Asia Art Archive in India where she focuses on artists' personal archives and art writing in South Asia. Noopur has led the digitisation of personal archive of Mrinalini MUKHERJEE and co-curated an exhibition of MUKHERJEE's archival materials, ...And It Is Something Which Grows in All Directions in conjunction with the launch of the archive in November 2022. Currently, she is developing the digitisation project of art and culture journals and little magazines from South Asia.
Noopur co-founded Hakara Journal, an online bilingual journal of creative expression in January 2017 and co-edited it till April 2022. As a bilingual writer and translator, Noopur has been researching on art writing in Marathi periodicals. Chitragosht: Art Writings in Marathi (1930s-1960s) coedited by Noopur DESAI was published by Sharjah Art Foundation recently under their Publishing Grant.
Noopur holds a PhD in Media and Cultural Studies from Tata Institute of Social Sciences, Mumbai.
|Samira BOSE
Samira BOSE is Programmes Coordinator at Asia Art Archive in India, where, together with colleagues, she activates AAA's archival collections through discursive programmes, workshops, and exhibitions.
Her recent projects include ...And It Is Something Which Grows in All Directions, an exhibition of documents from Mrinalini MUKHERJEE's Archive at Project Space, New Delhi (2022), Translations, Expansions at documenta fifteen (2022), Mobile Library: Nepal in Kathmandu (2021-2022) and an ongoing talk series Inter-Archives Conversations.
She is currently interested in infrastructures of libraries and archives in the region, and speculative and artistic methodologies of engaging with/in them. She is a regular contributor to Alternative South Asia Photography (ASAP Connect), where she writes about photo-documentation in art archives.
She completed her MA in Arts & Aesthetics at Jawaharlal Nehru University, New Delhi.

▶ Free Admission via Online Registration.
▶ Upon submission through the Online Registration Form, a seat is reserved for you. A reminder will be sent to your email prior to the event. If you didn't receive the reminder email, please check your Spam or Junk email.
▶ Please wear a mask at all times at C-LAB.
▶ The organizer reserves the right to adjust and change the activities according to the epidemic situation.